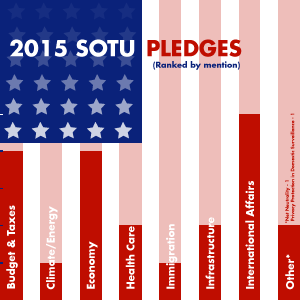 President Obama fulfilled his constitutional requirement to address the nation earlier this week with the annual State of the Union.   The pundits will weigh in on whether or not the policies laid out will be achievable in a Republican-controlled Congress.  The economists will debate what can be paid for and how.  The journalists will count how many times the crowd clapped and stood.  As an advocate, I looked for the programs that impact Goodwill® and the people we serve.
As a nonprofit social enterprise employing 122,000 individuals, we will monitor policies that address the needs of working families.  We share hope with the nonprofit sector that the tax reform proposals laid out by the president could spur charitable giving via estate tax plans.
As a provider of workforce development programs to more than 9.8 million individuals who face employment challenges, Goodwill is excited about the proposal for free community college,  the increased connections between community colleges and local employers in order to enhance America's job-training system, creating more high-wage jobs, and providing people with the skills they need to compete for jobs for the future.  Furthermore, we appreciate the president's plea to employers to hire veterans.
Goodwill is also engaged in providing financial wellness services to those in need and therefore is supportive of expanding the Earned Income Tax Credit, an idea that even some members of the GOP endorse.
While there were certainly a number of proposals of interest to Goodwill, there were also a number of Goodwill stakeholders not mentioned in the speech.  People with disabilities were mentioned in passing, and there was  no specific mention of  the long-term unemployed, older workers, people with criminal backgrounds, and many of the other employment challenges people face.  Goodwills around the country provide valuable job-training services to these individuals; place them in jobs, creating a pathway out of poverty every day.  Even poverty reduction was only mentioned in the context of discussing Africa and the need to eradicate extreme poverty.
Lawmakers will look at the ideas put forth in the speech and will debate the merits of these proposals and legislate the specifics.  But you have a role to play as well.  Now is the time to let your voice be heard and to speak up those groups who were not referenced.
Sign up for Goodwill's Legislative Action Center to contact your members of Congress.  Share the alerts and updates with your own networks.  Educate other stakeholders how the acts of Congress will affect Goodwill.  Let's make sure the important groups overlooked in the State of the Union are not forgotten.