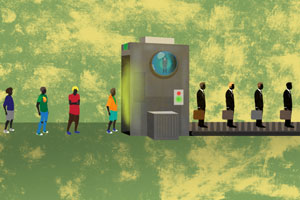 It has been 15 years since Congress enacted the Workforce Investment Act (WIA), the nation's primary job training law. Back then, the U.S. had a budget surplus and the unemployment rate was 4.4 percent. Today, the nation is slowly recovering from the worst recession experienced in a generation and unemployment is stubbornly declining from the peak it reached during that time. Needless to say, the law is long overdue for an update.
The Senate Health, Education, Labor, and Pensions (HELP) Committee held a hearing today to consider how WIA could be improved to better develop a skilled workforce for a competitive economy. After the hearing, the committee is expected to advance a WIA reauthorization bill in July.
Sources indicate that the current Senate WIA reauthorization draft closely resembles a Senate discussion draft, one that was circulated during the 112th Congress and that Goodwill supported. The discussion draft included provisions that would:
1. Create innovation funds that would support new strategies and activities, or the replication and expansion of effective evidence-based strategies and activities.

2. Discuss how to overcome challenges in providing help to harder-to-serve populations.
The new version is also expected to include provisions similar to those in the discussion draft that was circulated during the previous 112th Congress. Such provisions (Sec. 511) aimed to strengthen and increase enforcement of the Fair Labor Standards Act by ensuring that transition-age youth with significant disabilities (younger than 24) explore a range of employment options. Goodwill and other non-profit organizations supported these provisions. Goodwill urges the Committee to include them in the current bill.
The Senate bill is expected to contrast with the Supporting Knowledge in Lifelong Skills (SKILLS) Act (H.R. 803), which was passed in March by the U.S. House of Representatives closely along party lines. The House bill proposes to consolidate 35 job-training programs into a single Workforce Investment Fund, a position that Goodwill opposes due to its one-size-fits-all approach. The Senate bill is expected to propose limited consolidation.
Goodwill is urging Congress to advance a bill that strengthens job training. Please take a moment to support Goodwill's effort by selecting the appropriate link below.
* Public supporters can click here to take action.

* Goodwill staff can click here to send a letter of support.

* Goodwill CEOs can click here to send a customized letter to lawmakers.