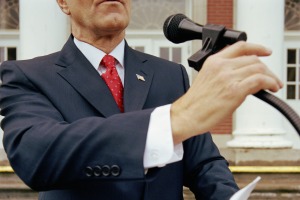 Lawmakers briefly returned to Washington, DC, to wrap up lingering issues before the 114th Congress convenes in early January. The new Congress will not only bring new faces and changes to the country's leadership, but a different set of priorities. As Goodwill® prepares to begin new relationships and strengthen old contacts, it is important that we focus on what our own priorities should be.
There are other actions you can take to engage in the legislative process and make a difference – all of which can occur virtually or in-person at the local, county, state and federal levels.   You can meet with your lawmakers and tell them what issues are important to you, attend hearings or provide testimony.
As a supporter of Goodwill you can:
These tools help us remind lawmakers that their constituents not only feel the impact of their decisions —   they are paying attention and keeping track until the next election. During this next Congress, the public policy team hopes to continue to be a valuable resource to our stakeholders, garner more grassroots support and advance Goodwill's legislative agenda.
Imagine if the 122,000 people employed by Goodwill weighed in on our agenda.  What if the 9.8 million people who received services contacted their members of Congress?  What impact could we make if our 84 million donors were receiving our alerts and updates to stay informed of issues pertaining to Goodwill's mission?  The possibilities are endless. Our collective impact is immeasurable. The potential is great, but only with your help.
The public policy team at Goodwill Industries® wants to hear from you.  Please tell us what issues you think should be most important for Congress and Goodwill to work on the in new year.  Share your thoughts by commenting on this post or emailing [email protected].