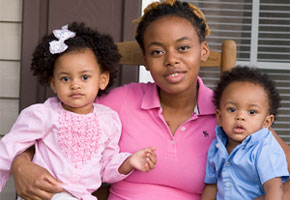 Goodwill Industries International is issuing a call to action this Labor Day, asking our supporters to tell Congress to continue to provide supports for people who aren't fortunate enough to be a part of the labor force. With an unemployment rate stubbornly hovering around 9.5 percent, an increasing number of people in need are turning to Goodwill for pre- and post-employment services, including skills training, job search assistance, job retention support, and other career programs.
One way that Congress can ensure that agencies like Goodwill can continue to provide these critical services is by extending the Temporary Assistance for Needy Families (TANF) Emergency Contingency Fund, which will expire on September 30. The Obama Administration is proposing to provide an additional $3 billion in new funds for fiscal year 2011. Continue reading to learn more or take action now.
Background: TANF, more commonly known as welfare, provides financial help to millions of families in poverty, (specifically unemployed parents with dependent children), and allows states to work with community-based organizations like Goodwill. Since it was first implemented, Goodwill has provided services and supports to more than 1.5 million TANF recipients.
The TANF Emergency Contingency Fund was established by the American Recovery and Reinvestment Act.  Funds can be used to provide short-term benefits, cash assistance, and subsidized employment.  Availability of the fund's resources will expire on September 30, 2010.  The extension of the Emergency Contingency Fund has been passed in three different pieces of legislation in the House of Representatives this year, yet it has not passed the Senate.
Goodwill Industries of the Redwood Empire in Sonoma, CA, is using TANF emergency contingency funds to run a subsidized employment program that gives people opportunities to train for employment in the green jobs sector. The program also provides opportunities to work in the nonprofit, public and for-profit sectors. This is just one example of the work being conducted by local Goodwill agencies as a result of the TANF Emergency Contingency Fund.
Prognosis: Unless Congress grants an extension, the TANF Emergency Contingency Fund will expire at the end of the month, therefore time is of the essence. The TANF program itself is also due to be reauthorized by September 30, 2010; however Congress is expected to pass a continuing resolution in order to keep the program operating.
Given that TANF's services are needed more than ever, the TANF Emergency Contingency Fund needs to be extended in order for organizations like Goodwill to reach more participants and help them find fulfillment in the power of work.