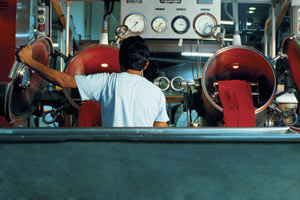 The U.S. still struggles to recover from the worst recession since the Great Depression. And unemployment stubbornly hovers near 10 percent. But Goodwill continues to invest the bulk of its revenues into providing services to people who face employment challenges.
Federal investments in this work are vital to us. Today, we are asking you to contact your Members of Congress, and ask them to support funding for job training programs. Continue reading to learn more, or take action now.
Background: Last week, the Senate Appropriations Committee approved a bill to provide FY 2011 funding for the U.S. Departments of Labor (DOL), Health and Human Services (HHS), and Education. The bill includes $169.6 billion for discretionary programs, including many that support the services provided by community-based Goodwills across the United States.
Under the Senate bill, additional DOL funds are being allocated to create a new "Workforce Innovation Fund," as proposed by the Administration's budget. For example, funding for the  Workforce Investment Act (WIA) would receive $896 million for adult worker programs, up from $861 million in FY 2010, with $35 million going to the Workforce Innovation Fund.
Funding for youth programs would rise to $995 million, up from $924 million in FY 2010, with $95 million going to fund the Workforce Innovation Fund. Funding for dislocated worker programs would rise to $1.2 billion, up slightly compared to FY 2010, and with $55 million going toward the Workforce Innovation Fund.
Additional funds from the Department of Education would also be tapped for the innovation fund – $27 million from the Rehabilitation Services Administration and $30 million from Adult Basic Education.
Funding for the Senior Community Service Employment Program (SCSEP) would be significantly decreased by $225 million. This program helps provide low-income older workers (age 55 and over) with community services employment and private sector job placements. Read about Goodwill's involvement in SCSEP.
View an analysis of proposed spending as it relates to Goodwill's public policy priorities.
Prognosis: Election-year politics may bring this year's appropriations process to a screeching halt, forcing congress to pass a "continuing resolution" to extend federal spending beyond the September 30 end of the fiscal year — and beyond the mid-term election on November 2.
Now is a critical time to let Congress know that you support funding for the types of programs that Goodwill provides that help regenerate our communities and reinvigorate our economy.