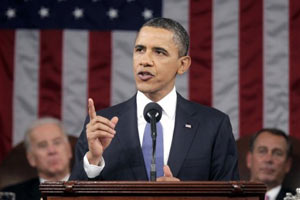 Last week, millions of Americans watched the State of the Union. In outlining his strategy for "winning the future," President Obama highlighted the need to create jobs by out-innovating, out-educating, and out-building the rest of the world. He also focused on the need to reduce the deficit. Among budget-cutting strategies he outlined was a proposal to freeze annual spending for the next five years, exempting education, defense, veterans affairs, homeland security, Medicare, and Social Security.
Implicit in his message about winning the future it how critical it is to win today. While investment in science, technology, engineering and math (STEM) are critical to keeping the United States competitive, thus ensuring that jobs in high-growth sectors remain available in the U.S. labor market, we must also remember to focus attention on the fact that nearly one out of every 10 people in communities across the country – many facing disadvantages that make it more difficult for them to find jobs – are in pain right now as they struggle everyday to find work at a time when the unemployment rate remains high. In addition, these folks are trying to maintain a certain financial level in order to support themselves and their families.  Unless we help these people succeed and fulfill their employment needs, many won't benefit from tomorrow's victories.
That's why it is critical that the nation continues to invest in the current workforce. Yes, investment in education – especially education that considers the needs of "working learners," (workers who need to take classes in non-traditional setting, and non-traditional times, coupled with supports to ensure their educational success) is important. Yet taking classes alone won't pay this month's rent.
Each year, the Federal government invests nearly $3 billion to help adults, youth, and dislocated workers to find jobs and access training that will help them grow in their careers. Goodwill® matches that Federal investment roughly dollar for dollar, as we dedicate 83 percent of our $3.7 billion in revenues raised through our retail, online sales commercial services and other social enterprises to give people the skills they need to reenter the workforce. Last year, local Goodwill agencies across the United States and North America provided job training, employment services, and supportive services to more than two million people, including more than 155,000 job placements. Goodwill is proud of these achievements, but we cannot discount how Federal investment in the workforce system supported Goodwill's efforts. This was truly a public-private partnership.
As the President said during his address, "Sustaining the American Dream has never been about standing pat." Goodwill is moving aggressively to grow its enterprise by opening more stores and attended donation centers in order to generate more privately raised revenues to invest in people who are facing employment challenges in the communities that local Goodwill agencies serve. As the President noted in his remarks, the challenges are huge, and Goodwill remains committed to partnering with stakeholders – and government – to overcome them.
Goodwill urges Congress and the Administration to do two things this year to help community-based organizations, like Goodwill, to do more to help put people back to work. First, they must maintain the investment in the workforce system to help people train for jobs that local employers are seeking to fill with skilled workers. Certainly the workforce system is not a perfect one, and critics will point to its imperfections to try and make the case to cut Federal spending on the workforce system in order to reduce the deficit.
However, Goodwill believes that doing so would be a mistake. By reducing the capacity of the workforce system to help people find jobs and earn incomes now, more people will continue to turn to public benefits such as unemployment insurance, food stamps, and housing assistance to help them get by until the job market slowly recovers. In other words, investing in the workforce system should reduce people's reliance on public supports. In addition, some served by the workforce system will earn enough income to help the Federal government raise new revenues needed in order to reduce the deficit while investing in our nation's future.
Second, Congress must reauthorize the Workforce Investment Act, the umbrella law that oversees our job training and employment placement system. It is tragic that the Workforce Investment Act has not been revised since it was enacted in 1998 – a time when unemployment was half that which it is today. Congress and the Administration should work together to update the law so that it is better designed to take on the challenges we face today and to move our workforce in the direction that it needs to be tomorrow. The time to reauthorize it is long overdue and the Administration and the 112th Congress should make the Workforce Investment Act's reauthorization and funding for it top priority and Goodwill stands ready to help.