Even though there's probably at least one in the closet of every person you know, somehow button-up shirts often get labeled as "boring." I know that in the past I've skipped right over entire sections of Goodwill® racks because I'm looking for something special to jump out and I assume that a basic button-up won't be it. But after noticing the amazing versatility of this very classic garment, I now know that my thinking back then was flawed. After all, when it comes to fashion, it's not really about what you wear, but how you wear it! Here are three totally not-boring ways to button up…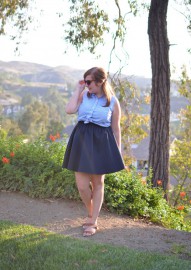 Image via room334.com
Option 1: Knotted at the waist. I love this fun and flirty take on a collared button-up that the amazing Elana of Room 334 has going on. It's such a flattering way to style a high-waisted skirt and would still work with pants and shorts, too. Or, tie it just like this over a dress to get more mileage out of each item. Knotted waists always seem to come off as so effortlessly chic. No matter what else you've got going on with your outfit, this casual cousin of the bow has a way of pulling things together. And since Elana thrifted her outfit, you know she didn't spend a fortune on it either! Smart and stylish to boot. Click through to her blog for more adorable looks!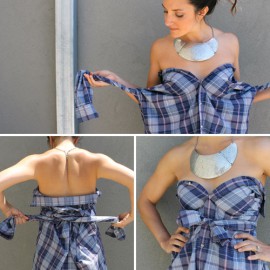 Image via brit.co
Option 2: Wear it as a dress. Sure, to turn a shirt into a dress you could just find an extra-long button-up then skip the pants and head out the door. Or, you could take an everyday button-up top and wrap it into a form-fitting minidress! This look can turn heads as a flirty lunch date frock on Saturday and go right back to the office for business as usual on Monday morning—that's versatility. What a perfect item to include in a capsule wardrobe…or any wardrobe, really. Couldn't we all use a few more button-ups now that we know what they're capable of? If you're looking for more creative ideas for fashion and thrift store finds, I found this over on Goodwill Industries of the Southern Piedmont's blog so check that out for inspiration!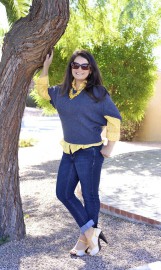 Image via thegoodwillgal.com
Option 3: Layer it. This one may seem obvious at first, but if you ever get stuck in a fashion rut wearing the same outfits over and over again, sometimes that's because you forget about how adaptable each item can be. Try your favorite button-up under a sweater you've never paired it with before to recreate this look I found on Goodwill Industries of Northern Illinois's GoodTHRIFTING FALL Pinboard (yes, I went there). Or, could it work instead of a cardigan as a light layer for cool late-summer nights? Again, it's not about what you wear, but how you wear it so put on your thinking cap and don't be afraid to experiment!
Even if you aren't able to come up with a snazzy new way to wear your button-up tops, just buying them from Goodwill makes a difference since Goodwill organizations' employment programs promote independence and dignity for people to provide for themselves and their families. And, hey—we never said there's anything wrong with wearing them the good old fashioned way. It's a classic for a reason so do whatever feels right for you!