By Jamie Coulson, Goodwill of Central Iowa
Even with most Goodwill® donation doors temporarily closed, we know that donating is important for so many reasons. This is the perfect time to teach kids about the importance of donations and get them involved in spring cleaning.
Donating unused items allows you to give back to the community, while being environmentally responsible.
While people gather their items to donate, the activity presents a wonderful opportunity to teach the children in our lives the importance of donating. Involve kids through craft and teach them how giving back to others in the community is of importance. Create a donation box and, once they are done, ask them to fill it with clothing or other items they think another child would benefit from more.
Crafting Supplies
Creating a donation box requires no specific supplies and the only guidelines are the endless limits of a child's creativity. Use a box or tote along with whatever odds and ends may be around the house for your child to create their own donation masterpiece.
We pulled together a variety of items along with some of our very own staple crafting supplies. Here is a list of all the items that were gathered for potential use on a box.
Crayola Washable Markers
Crayola Jumbo Crayons
Elmer's Glue
Scotch Tape
Colored Paper
Tissue Paper
Scissors
Coffee Filters
Gems and Rhinestones
Curly Ribbon
Hot Glue Gun
Stickers
Paint Brushes (of all sizes)
Sponge Brushes
Washable Paints
Painting Drop Cloth
Cookie Sheets
If you don't have any washable paints, no worries! We found a recipe for homemade watercolors. This adds a fun science experiment and sensory play to the project.
Making Your Box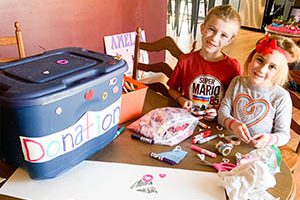 Once all the supplies have been collected for your activity, make sure you are in a safe space for creativity to roam.
I executed this activity with my niece. For our trial activity, we determined the kitchen was the best place for creativity to take flight. We placed the drop cloth on the floor and I slowly handed supplies over to her until she found what she wanted to use.
The most popular items in our box creation were the coffee filters and homemade watercolors. For our craft, painting was a new concept, and it turned out to be so exciting! The coffee filters were doubled up and folded in half to be painted. We used cookie sheets to minimize any potential mess that could be left on the floor.
In our creation, we experimented with painting directly on the box, splatter painting and finger painting. Can you sense a trend? We eventually tried our hand at what we could do with tissue paper.
We tore the paper into pieces and used both the watercolor paint and a glue water mix to make the tissue stick. Both worked to adhere the tissue onto the box for an attempted mosaic look.
Other wonderful ways to create a donation box include using crayons, markers and paper. This opens a variety of different ways that the littles can decorate their boxes. Whether creating designs on the box or making colorful paper cut outs, each decoration is perfect in its own way.
How To Teach Your Kids about Goodwill and the Importance of Donating Items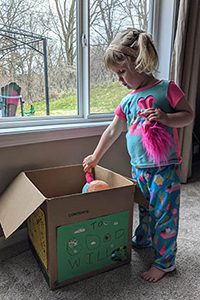 This project is a wonderful way to teach kids about Goodwill  and the people we serve. When you're done creating the donation box, encourage your kids to donate some of their used clothing and toys.
Use Goodwill's A-B-C-D prioritization tool to help kids decide what to give away. Here's what to teach them, in words they understand:
An "A" toy is a favorite one that you love and play with all the time (something you play with every day!).
A "B" toy is one you play with a lot, but not QUITE every day.
A "C" toy is one you don't play with very much, as often as having a birthday or celebrating a holiday.
A "D" toy is one you really are not playing with at all. D stands for DONATE to Goodwill!
Help kids store their A and B toys where they can reach them and put them away easily, and put C toys up higher in a box or on a shelf.
You can explain to kids that donating their "D" toys (and possibly some "C" toys too) helps others and also helps the planet. Did you know that each year, Goodwill diverts more than 4 billion pounds of items from landfills?
Once it is safe for Goodwill to open donation doors again, have your kids bring their donation bins to a local store so they can see how their items will be getting new lives.
The donations received by Goodwill help fund the many mission programs that we have to offer. These include job training and placement services for people who are looking to get jobs or move up in their careers. These mission programs are especially relevant right now, as the unemployment soars to record highs amidst the current health crisis.
After explaining what Goodwill does for the community, tell your children how the donations fund these programs. The donations received will be sold in stores, outlets, or online. For every dollar that is sold, 87 cents go back into funding the mission of Goodwill. Let your kids know that because of their donations, Goodwill can provide special training to help people in the communities.
Reposted with permission from Goodwill of Central Iowa.