At this point, you've undoubtedly seen the banana leaf pattern adorning everything from wallpaper to wardrobe pieces. The trendy and tropical look has caught my eye many times but, as you know, I have a really hard time paying full price for something brand new when I know that by shopping at Goodwill I can save money, lower my environmental impact, and help Goodwill organizations aid in the success of people who are striving to earn paychecks and support their families. So, when I decided to search for banana leaf finds that could freshen up my closet and home decor, Goodwill was my destination!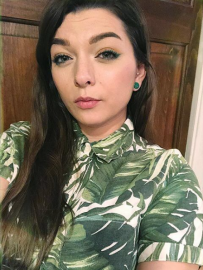 Image via instagram.com/kalenface
Over on the Instagram feed of Goodwill Industries of Central Indiana, Inc. (Indianapolis), I spotted this amazing button-up shirt originally posted by an Instagrammer named Kalen. She found the top in one of her local Goodwill stores and it quickly became her new favorite. If you have to wear a collar to your nine-to-five job, this would be one really fun way to infuse your work wardrobe with a laid-back vibe. It could also spice up jeans, look super cute peeking out from under a sweater, and feel unexpectedly smart tucked into the right high-waisted skirt. With pieces like this, you don't automatically see them as being versatile, but with a little creativity they can actually be worn a ton of different ways!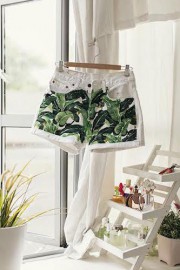 Image via parkandcube.com
Didn't find the right print while you were out shopping? Don't forget that you can DIY! As Goodwill Industries of the Valleys, Inc. (Roanoke) reminds us on their style Pinboard, there are always plenty of ways you can customize your Goodwill finds. Painting a banana print onto thrifted jean shorts is just one way to get the look without paying full price for something new. Make sure you click through to the tutorial if you're going to try this paint-on technique at home. There are lots of helpful tips including how to heat-set the paint with an iron so it can be machine washed! This opens up a whole new world of project possibilities, right?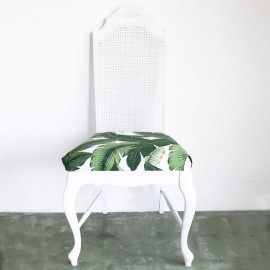 Image via pinterest.com/aherred/craft
But if you're not confident in your hand-painting skills, there's yet another way to get that banana leaf print on your Goodwill finds—fabric! Follow Ali Clifford's lead and grab enough yardage to re-cover a piece of thrifted furniture so you can add some impossible-to-kill greenery to your home. I love how modern and fresh this chair now looks with its new paint and reupholstered cushion. And, trust me when I say that the chair was incredibly dated before she worked her magic. How do I know? These were the exact chairs we had at my dining table growing up! They're also the same chairs that Joan from MadMen has! If they were in style in the '60s then by the time they were pulled up to my childhood dining table in the '90s, they were already outdated hand-me-downs. 25 years later, they are in desperate need of the white paint and banana leaf makeover that you see pictured here.
So, what do you think? Does the banana leaf trend have a future in your closet or around your dining table? Since it's so fun and easy to incorporate, maybe you'll give it a try! Or, you could just use these tips and tricks to customize finds with your own favorite print. Either way—have fun making the most of your thrift store scores!