All too often, many people face challenges when trying to find employment. One of these is having access to necessary skills training. To address the issue head-on, Goodwill Industries of the Chesapeake has collaborated with CVS Health and Baltimore City Community College to open a "CVS Mock Pharmacy" to provide an innovative classroom experience for aspiring pharmacy technicians and retail associates.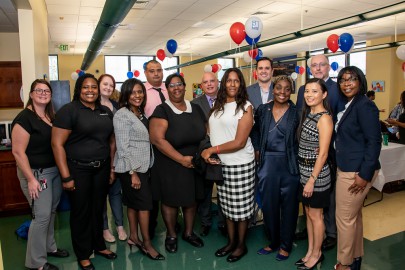 The CVS Mock Pharmacy is located on the Goodwill® campus in Downtown Baltimore and is a vital component to Goodwill's workforce training initiative. It provides a hands on work experience to familiarize participants with all aspects of the pharmacy technician job and/or retail store responsibilities, preparing them for the fast pace pharmacy environment.  Participants in the Certified Pharmacy Technician Program take part in a 16 week pre-apprenticeship program, consisting of Pharmacy Calculations and Theory courses, and CPR certification at Goodwill's Career Center, followed by a 6 week Pharmacy Technician Clinical Externship provided by CVS Health. The program includes job readiness soft-skills training combined with classroom and field-based clinical instruction, creating a pipeline of pharmacy technicians and retail employees.
The opening of the CVS Mock Pharmacy also marked the graduating class of his program. Each participant will now sit for Maryland's Pharmacy Technician Certification Exam (PTCE).
With the development of this new training center, students get a "real-world" learning experience and hands-on training. Innovative training programs not only benefit students by placing them in high demand, good-paying jobs, but also benefit employers who need well-trained and reliable employees.
Read more about the initiative in the Baltimore Sun feature: http://www.baltimoresun.com/bs-bz-cvs-goodwill-pharmacy-training-20181010-story.html