Oh, how I wish I could fill my home with fresh blooms all year-round. Every room just feels so cheerful and lively when there are flowers nearby! Well, even if we can't have constantly refreshed vases on our tables and ever-blooming gardens outside our windows, there are still a lot of ways we can infuse our lives with some botanical beauty. Here are a few projects that thrifters around the country have completed to update their homes with floral finds…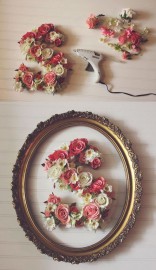 Image via cuded.com
I have a thing for intricate, gilded frames, so I almost jumped into my computer when I saw this project that was shared by Goodwill of the Olympics and Rainier Region (Tacoma) on their DIY Gifts pinboard. It's elegant and embellished, but still so classically beautiful that it doesn't seem outlandish. The romantic hues of these faux flowers would be so lovely on the wall behind the head of the dining table or even in a baby's nursery. Of course, if you wanted to take this project on yourself, you could change the colors to whatever works best in your home! All you need are the blooms of your choice and a great thrifted frame. It doesn't even matter what's inside the frame when you find it. If it's not your style, just donate it right back for someone else to find—you won't need it for this project!


Image via justagirlblog.com
Or maybe you could give that old art a fresh new frame to make it feel more relevant. Chris from the blog Justa Girl did exactly that. With her craft-goggles on, she could envision an Anthropologie-esque update for some pretty dated botanical prints that she spotted in her local thrift store. It turns out, underneath the not-so-great frames those flowers had a lot of style! For less than $10 and with just a few scraps from around the house, they were totally transformed. It's easier than it looks, too! All she did was glue some wood trim and thick string into place on the prints and they were ready to be hung. Easy peasy!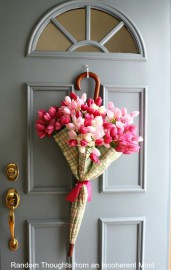 Image via randomthoughtshome.com
Since blooming tulips aren't that far away now, this last project really strikes a chord for me. How perfect would this blossom-filled umbrella be on your front door throughout the month of April? Bonus points go to Goodwill of Western Missouri and Eastern Kansas (Kansas City) for sharing this idea on their DIY Goodwill pinboard because it is both beautiful and useful. After April showers pass, you don't have to tuck this umbrella away in the basement the way you do a faux wreath after Christmas or a BOO! sign after Halloween. Just keep it out in your mudroom and actually use it throughout the year for its original purpose (how novel!). Functional, versatile decor is just the best, isn't it?
The spring season inspires new outfits, home collections, and people to get moving with outdoor activities. By shopping at your local Goodwill this spring for these items, you can feel good knowing that you are helping your neighbors who are unemployed or underemployed get off to a fresh start. Simply by bringing floral finds into your home, you're helping others bloom in the right work setting for them so they can reach their full potential.