October is National Disability Employment Awareness Month (NDEAM). NDEAM celebrates the contributions of workers with disabilities and educates about the value of a workforce inclusive of their skills and talents.  Among a number of activities and events to highlight NDEAM, included a Congressional briefing on the Workforce Innovation and Opportunity Act (WIOA): Advisory Committee Recommendations for Legislative Action. Goodwill Industries® had the privilege of being represented on the Advisory Committee to Increase Competitive Integrated Employment for Individuals with Disabilities, and provided a unique perspective the conversation as an employer and service provider of people with disabilities. The theme for NDEAM is Inclusion Drives Innovation. The work for the committee exemplified this theme as they worked to craft innovative recommendations to increase employment opportunities for people with disabilities. They strived to be inclusive of the many stakeholders involved in disability employment including individuals with disabilities, their family members, employers, service providers, and those who administer benefits among others.
Local Goodwill organizations take the same approach. Inclusion is an inherent driver of local Goodwill® organizations' shared aspirations for people with disabilities. The ideas are grounded in choice and the ability to earn wages. Goodwill aspires for all people, including people with disabilities, to reach their potential, enhance their quality of life, and experience integration, pride, self-sufficiency, and social acceptance.
However, it is evident that more work needs to be done to educate employers and support people with disabilities. Approximately one in five Americans has a disability and they make up nearly 20 percent of America's workforce, yet their unemployment rate is more than twice that of workers without disabilities. As an advocate, click here for ideas from the U.S. Department of Labor that you can implement in your workplace and community to raise awareness. If you're an individual with a disability receiving support from Goodwill or a government program, click here to share your story.
Goodwill is a leading advocate for and supporter of people with disabilities. Our workforce and organization's policies reflect that fact. Local Goodwills employs more than 27,000 team members with disabilities — comprising one-quarter of our entire workforce.  Last year, collectively local Goodwills provided job training and employment services in-person to more than 278,000 individuals with disabilities.
Goodwill organizations are proud to support people with disabilities year round, but during the month of October, join us in celebrating to contributions of American workers with disabilities – past, present, and future.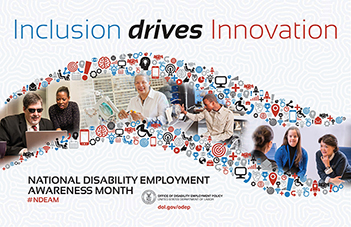 Image via www.dol.gov