Have you heard of hygge (pronounced sort of like hoo-gah)? It's one of those words that has no true English translation. In Denmark, the word describes the distinct feeling of happiness derived from things of comfort: pillows, candles, tea, and good friends. Now, as we dwell in the midst of autumn with a long winter ahead, it feels like the perfect time to explore some items that might help you find hygge in your home. All three of the things we're talking about today are items I've seen in high-end shops that, if it weren't for the price tag, I would have brought home to improve the snugness of my living room. Happily, Goodwill gold-diggers across the internet have been figuring out how to make these pieces themselves from thrifted finds and you can make them, too! Here's how…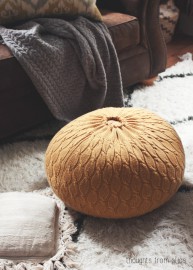 Image via thoughtsfromalice.com
First up, floor poufs. You've seen these, right? They're the comfiest looking seat/footrest options out there right now, but they are incredibly expensive! That's why I was so excited to see that Goodwill of North Georgia (Atlanta) shared a link to 35 DIY poufs on their Upcycle pinboard. Scroll through the list for lots of different style options and DIY skill levels. My favorite is this one pictured above which is just a thrifted sweater, a quick and easy lining made to match, and fiberfill! One major aspect of hygge is the warmth one feels when sharing time and space with good friends. So, make sure you have lots of cozy places, like floor poufs, for friends to lounge when they pop by for tea.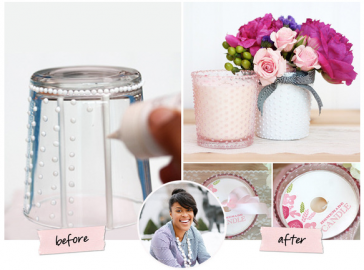 Image via facebook.com/GoodwillVegas
Now it's time to add a little mood lighting with soft lamps, or better—candles. The flickering warmth that candlelight brings is a staple for those seeking hygge and can help visitors feel as comfortable in your home as you are. I recently saw a beautiful candle in one of my favorite shops that had these great little dots for texture on the outside of its jar and I really wanted to bring it home. I was so drawn to it because after the candle (which smelled incredible, by the way) had burned out, I could picture the jar adopting a lot of different tasks from a flower vase on the dining table to Q-tip holder on the edge of bathroom sink. The problem was, though, that the candle cost almost $40! Sure, it was a big candle, but I still wasn't prepared to shell out that much cash for it. And it turns out I didn't have to! Goodwill Industries of Southern Nevada, Inc. (North Las Vegas) posted this photo on their Facebook page so now I'm inspired to make one myself by adding tiny dots of glue to a thrifted glass. I can make my own candle to fill it from the pieces of I have left from older candles or with fresh wax pellets and essential oils for fragrance.

Image via recovergirl.wordpress.com
Lastly is this patchwork sweater quilt made by my fellow New Hampshirite, Jennifer of RecoverGirl, that looks like it belongs at Anthropologie. I can't even imagine how much it would cost to buy this at a retail store, but when the cold winter wind whips by outside, a wool blanket might be just what you need to feel safe indoors. With basic sewing skills and a bunch of thrifted sweaters, this incredible blanket could enhance the feeling of hygge in your home. Since you're making a custom piece, you get to decide on the colors and patterns involved and the size when you're finished. If this doesn't bring you a sweet, simple happiness, I don't know what will.
But, remember, hygge isn't any one thing. It isn't really the poufs, the candles, or the blankets we have talked about, but instead, these are symbols of comfort that help a person find the feeling. What may matter even more than these objects is community itself. Bumping into an old friend on the street, having a neighbor over for dinner, or helping members of your city or town get back on their feet after a trying experience. You can join Goodwill® in giving back to your community simply by shopping for project supplies at your local Goodwill store to help others find a little comfort in their time of need.