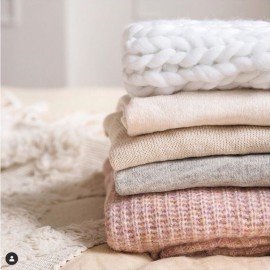 Photo: @tiffany_calhoun
There's a decluttering movement that's sweeping across the nation. Families and individuals have started to open their eyes to the amount of clutter in their homes and as a direct result, their minds. People are starting to realize that having less means having more freedom and less to worry about. There's just something about a minimalist lifestyle and living space that causes a serene, relaxed atmosphere – exactly the type of place you want to go after a long day of work.
Research has proven that minimalist living – a decluttered way of living – can impact one's thoughts too, and provide clarity in all areas of one's life. Why is it that many of us have overflowing closets and dresser drawers, shoe racks that don't fit close to all of our shoes, yet we only wear the same few things over and over again? Why is it that we're drawn to purchasing items that are on super sale, even when we don't necessarily need them or know if we'll ever have an occasion to wear them?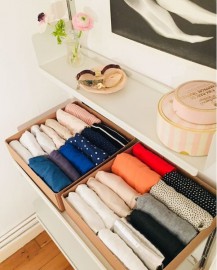 Photo: @worthwhile.me
What people have started to realize is that taking care of the clutter in one's home doesn't need to be a traumatic experience that takes years and an exhausting amount of decision-making. In fact, the decluttering process can be achieved with just a few quick steps and a lot of dedication. Once you've decided you want to live a more minimalist life, the first order of business should be to head straight to the closet and dresser and take a moment to truly look at all of what you have. To be shocked by how much excess there may be and to be grateful for each and every item. The steps for clearing out one's closet can be quite simple. Hold every single clothing item in your hand one at a time and truly analyze if it still serves you and makes you happy. Clothes can carry memories from times they've been worn or purchased or gifted. If the memories aren't happy, you'll be less inclined to wear the items. Put them in a donation pile. If the memories are happy and you know it's something you'll wear a lot, put in the keep pile. If there are items that have been in your closet for months or years with the tags still on them that have never been worn, these are ideal pieces to toss in the donation pile and bring to your local Goodwill® store. Overall, this is a mindful process and though it may take a while to complete, the end results are always astonishing.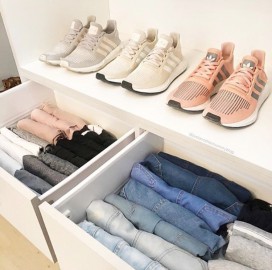 Photo: @justanothermummyblog
Taking a look at what we have and analyzing the amount brings us a new perspective. Especially when it comes to clothing, there's a lot more work that goes into maintaining each item than we realize when we purchase them. Clothes need to be washed, ironed, folded, hung on hangers, placed into drawers and closets, brought to the dry cleaners… there's a lot of care that goes into maintaining ones clothes, which is another reason why less is more.
Doing a big closet cleanout also gives you the chance to analyze what styles, colors and fits you're drawn to. Is there a certain pattern you enjoy wearing over and over again? A color that keeps popping up in all your items? Take a good look at some of your most frequently worn clothes and compare them to those you're fine with putting into the donation pile. This could help you on future shopping trips, because you'll now know what you like and not what looks good on the hanger on the sale rack. Once you figure out what works best for you, you can rid yourself of everything else and focus on making those outfits that you feel confident and beautiful and ready to conquer the interview, or meeting or brunch in extra special.
I've started adapting these methods to my own closet and can't believe the amount of clothes I've parted with – donating to your local Goodwill to support others in my community find affordable clothes that work with their style, while all proceeds go towards creating better job opportunities for other community members. It feels SO good to fill a bag to the top knowing that I won't really miss any of the clothes that have been taking up space in my life, while also knowing that they're on their way to another home, where they'll be loved and styled to that person's content. The beauty of thrifting goes way beyond that one big designer find at the end of the rack. By donating your clothes, you're giving new life to another person and new legs to the Goodwill organization. It's a sheer bonus that at the same time, by cleaning out your closet, you're giving yourself the gift of living a joyous existence full of clarity, confidence and love.