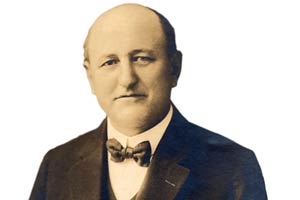 On Martin Luther King Day, we remember the legacy of an American who dreamed of equality, justice and peace for our country.  Here at Goodwill, we also take this day to reflect on our founder Dr. Edgar J. Helms, who had a similar dream to create equal opportunities for all people. His dream was to eliminate barriers to employment and help people in need reach their fullest potential through the power of work.
To accomplish his goal, Helms created a system where Goodwill collects used items from the community and sells them in stores to fund employment and training programs.  Dr. Helms' vision has sparked a movement that has led to a $2.4 billion dollar nonprofit enterprise and the world's largest private-sector employer of people with disabilities and challenges to employment.
Goodwills across the country are achieving Helms' dream every day by helping Americans set new goals, build skills, find jobs and achieve their potential. Here's how you can make your own dreams and those of others come true through Goodwill:
Are you looking to advance your career?
Goodwill can help you find your next job and build skills through job training programs and career counseling services.  We also provide online learning to help you build skills like resume writing, interviewing and networking from the convenience of your home.  Last year, Goodwills across the country helped over 155,000 people find employment.
Do you dream of a successful and sustainable future for you and your family?
Not only do Goodwills offer employment services, we also provide holistic services to help individuals and families succeed.  If your local Goodwill does not offer a program to help you achieve your goals, we can connect you with resources in your community to rebuild your finances, find childcare, claim public benefits and more.
Would you like to make an impact in your community?
There are many opportunities to volunteer your time and talents to help others in your community achieve their potential.  Whether you are looking to mentor youth or provide tax assistance, there are countless ways to contribute your time, knowledge and support.   Use our volunteer search to find opportunities or donate your goods to make a difference in your community.
Do you want to see equal opportunity for all people?
Join the Goodwill advocacy movement to encourage  services and fair employment for all the populations we serve including people with disabilities, individuals with limited finances, veterans, immigrants and youth at risk of dropping out.  Contact your member of Congress to advocate for individuals looking for meaningful employment and other legislative issues that affect the people we serve.
At Goodwill, we are always striving to achieve the dream Helms set out for us over a hundred years ago: "Friends of Goodwill, be dissatisfied with your work until every handicapped or unfortunate person in your community has an opportunity to develop to his fullest usefulness and enjoy a maximum of abundant living."
If you are interested in learning more about Goodwill programs in your community, contact your local Goodwill.