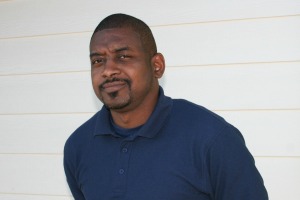 My life journey is as long as the yellow brick road. I left home at the age of 12 to go to foster care when my mother's boyfriend abused me and my seven brothers and sisters. I lost hearing in my left ear and I am partially deaf in my right ear. Living in and out of foster care taught me a lot and showed me a lot of responsibility.
My first job was at Krystal's restaurant from October 1992 through January 1993 as a cook and custodian. Then in June of 1993 to September of 1996, I worked at Central Park restaurant where I cooked hamburgers, prepared sandwiches, maintained and documented inventory, shut everything down and locked up.
I took a year off of work to focus on school in 1997. The foster care system was crazy and without the support of parents, I started college, but had to withdraw due to a lack of money for personal items and transportation. I walked just about everywhere in Macon trying to find another job, and that's when I came to Goodwill Industries of Middle Georgia and the CSRA (Macon) in March 1998.
I met with the Goodwill's staff and started out at the career center in downtown Macon as a materials handler and sorter. I really didn't like it there until my meeting with Jack Flowers, the Macon Goodwill's director of contract services. He placed me with Lester Daniels on the custodial crew. Lester took me under his wing and taught me everything in the custodial function. That led me to be employee of the month several times and the recipient of the Goodwill's 1999 Edgar J. Helms Graduate Staff of the Year award. In 1999, I also went to work for the City Of Macon as a building maintenance worker. In a quick span of time by my hard work, ethic and determination, I received the award in 1999 as Exemplary Employee of the Year for Macon.
I worked and maintained both jobs until resigning to start my own business with my wife in 2007. I have since helped launch other careers through our business, Coleman Cleaning Service, which provides residential house cleaning, office cleaning, lawn maintenance, plumbing and other services. We work hard and take pride in our work.