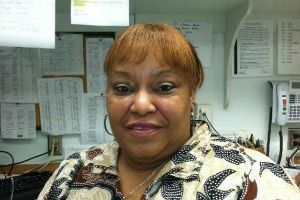 My name is Gail Brown and I have been a Veterans Affairs (VA) operator with Goodwill Industries of North Louisiana (Shreveport) for the last five and half years. I have post-polio syndrome. I am also a Hurricane Katrina survivor.
My life has been outstanding: I finished high school in 1969, got married in 1971, and raised three sons. I was always independent, even as a child.
After my youngest son graduated from high school, I decided to go to college in 2001. I completed four years at Southern University in New Orleans as a social work student. During my last semester, Hurricane Katrina destroyed our city and we moved to Jonesboro, AR. I enrolled in Arkansas State University to finish my degree and graduated in 2006 with a bachelor's degree in social work.
In 2008, my family and I moved to Shreveport. I got in touch with Vocational Rehab of Shreveport and I told my counselor that I needed to realize my goal of becoming an effective social worker. I was then directed to Goodwill as a contract operator at the Overton-Brooks Medical Center (OBVAMC). I decided to take the job if it was offered, and I've been there ever since.
As a member of the Goodwill team at OBVAMC I have trained most all the current operators including a OBVAMC government staff member. I have been asked to take the team lead position several times. However, circumstances beyond my control have prohibited this. This would be a great opportunity for me if my circumstances ever change.
As a Goodwill worker, I found out that it is a very good place for people with disabilities to work and find training. I thought I would never be able to get back into the workforce; but, when I entered Goodwill, I found that I was able to do the job. I have one major goal left, to get myself a side lift accessible van.
Improving people's lives through the power of work, are not just the words of the Goodwill motto, they are the words of my success.