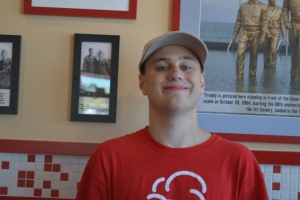 Despite some challenges stemming from a intellectual disability, Josh MrKvicka completed high school and looked forward to the next step…a job! Josh needed help tackling the job search. After trying another agency with no luck, Josh and his family gave Goodwill of Western Missouri & Eastern Kansas (Kansas City, MO) a try. He and Goodwill employment specialist, Jane Siela, went to work. He now works at Freddy's Restaurant in St. Joseph, MO as a "Lobby Guy".
How did your Goodwill employment specialist assist you?
We did mock interviews, practiced communication and learned job skills. It helped a lot, and I felt glad that she helped me.
How did you feel upon finding out that you received your first job offer?
I felt proud of myself that I got the job. I felt proud, and I felt determined. My parents were excited too. They are proud of me.
What do you enjoy the most about working?
I think it's fun interacting with the guests. I feel like a part of the community because I feel experienced. I get to have a nice meal after I work: a triple cheeseburger (no pickles), fries, a drink and a dirt and worms custard. I think I've changed. I've changed from before, and I got into the spirit of working.