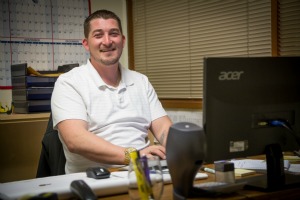 Justin Hon was able to use his self-presentation skills in conjunction with additional job training from Goodwill Industries of Southern Oregon (Medford) to find work after facing challenges related to his criminal history. As a result of his job placement, he is now able to be more involved in the lives of his children. Read more below and watch as he shares his journey to self-sufficiency.
What brought you to Goodwill?
When I lost my job I had to get on TANF (Temporary Assistance for Needy Families).  I struggled for a long time [in] looking for a job because I had a criminal history that was blocking every opportunity.  Doors would open, so I thought.  I got calls and emails saying a company I applied to found someone else to hire.  I was getting more discouraged every day.
Overall, how has your experience with Goodwill made an impact on your life?
Goodwill opened their doors to me and gave me job training, let me use their computers, and enrolled me in classes on how to be a more reliable and productive employee.  Many Goodwill employees would watch my persistence in looking for employment.  They never gave up on helping me.
What new skills or knowledge have you gained through your experience with Goodwill that could help in other aspects of your life?
Their computers were a blessing because I used them to write judges to help me get my driver's license.  The classes were great because they gave me a new way to think, act and handle every scenario for employment.
What have been some of your biggest accomplishments since working with Goodwill?
I finally gained employment after a lot of hard work.  I became the assistant manager for a convenience store chain and was then nominated for and awarded the 2014 "Inspiration Award" as a graduate of Southern Oregon Goodwill's Jackson County workforce development program.
Is there someone at Goodwill who has inspired you to continue to grow?  If so, who, and how has that person helped?
I would like to thank the staff of Goodwill for guiding and helping me become a success in my community and my life.  To Shiloe, Julie, Heather, Shae, Matt, Steve and everyone involved: thank you.  I am the story behind the store.