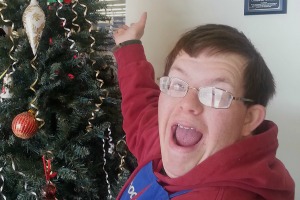 Hi, my name is Justin Newbern and I work at ABVI-Goodwill (Rochester) in Geneseo, NY.
I work in the wares department and at the donation door and I love my job!
I learned how to pull and push items in the store, take out the garbage and do recycling. Running the donation door is my favorite job because I like to sort things, talk to people at the door and help them, but mostly I like my co-workers.
I live with my mom and help her pay the bills with my paychecks and help her at our stable to take care of her horses. In Special Olympics, I won two gold medals in swimming, gold in basketball and went to states in horseback riding.
I started working at the ARC of Livingston-Wyoming in a workshop in 2007. I took classes and started working at Goodwill four years ago with a job coach and have learned a lot since I started here. I can help people find things in the store and I can answer questions.
Goodwill has taught me to be honest and laugh and have fun at work and make people feel good. I have a lot of friends at Goodwill. I like to learn new things and do new things.