Things hit an all-time low for Brad in 2014. His wife passed away, and he needed to move out of the home they once shared. After struggling with substance abuse for months, Brad sought treatment. During his treatment, he set a goal that he wanted to get a job and better his life. This is when a family member told Brad about Goodwill having programs and services for individuals seeking employment. Brad realized he would need help to reach his goal of finding a job, so he attended an information session at Goodwill.
Brad enrolled in the Achieve program, which is fully funded from Goodwill Industries of Greater Grand Rapids' retail stores. This no-cost program assists individuals with gaining the skills to attain and maintain long-term employment to be self-sufficient members of society. In this program, Brad worked on barrier reduction, communication skills, self-confidence, handling stress, working with others, job search techniques, resume creation, interview practice and much more. Brad worked hard to show the Achieve program staff he was serious about gaining employment by participating in discussions and activities and showing up on time every day.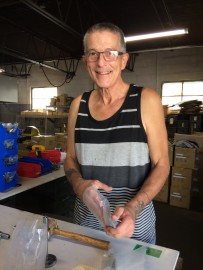 When Brad was ready to start looking for work, he met with the Achieve program career coaches to identify employment opportunities. Brad needed to find a job on the bus line and preferably with a shorter commute. Brad and his career coaches were able to identify a business that was close to Brad's home, on the bus line and aligned with his skills and interests. Goodwill has a partnership with this business and has helped to fill several positions for this employer in the past. Brad was concerned that his age, lack of work history and criminal background would impact his chances. He said, "I have a felony conviction and that isn't helpful, and I have a lack of a work history." Since Goodwill has a relationship with this company, the Achieve program was able to speak on Brad's behalf and help him get the position.
Brad has been employed at his warehouse position for over a year now. Brad's employer stated "It was clear that Brad was committed to work by the effort he put in at Goodwill's Achieve program. Our relationship with Goodwill gives us the opportunity to hire quality people that we might not otherwise meet."   Brad states his job is perfect for him and he is happy there. He is grateful for the assistance he received along the way. Brad said "I tell other people about Goodwill. The Achieve program was beneficial, it was good that I could go through the program first, it prepared me for working. I appreciate what everyone has done for me.  The staff were all very polite, motivational and encouraging. I liked everybody and everything we went through was real informative and helpful and it was a good start to getting me out of bed and getting on a schedule."