Calvin worked throughout the pandemic as an Office Assistant with MedQUEST, the State of Hawaii's medical coverage program for low-income adults and families, however, his wife lost employment due to COVID-19. During this time, their infant son required regular medical check-ups which was a concern especially during the first year of COVID-19. Because of this, Calvin set a personal goal to complete his Google IT Certificate in order to gain more flexible, well-paid and remote work in the IT field.
He learned about Goodwill Hawaii's Google IT program through their recruitment campaign on social media and initially applied in May 2020. However, since Calvin had a Bachelor's degree in Business Administration, he was not initially eligible for the program. But in early in 2021 the funder started to allow a limited proportion of students with 4-year degrees to enter the program. Goodwill Hawaii staff reached out to Calvin to share the news, confirm his eligibility and enroll him in the Google IT course.
During this time, Goodwill Hawaii referred the Matthews family to apply for a Rent and Utility Relief Program to assist with rent and bill-paying due to COVID related job loss and based on household income. They also shared financial and community resources specific to Native Hawaiian families with Calvin, who is Hawaiian. All services were virtual, Goodwill offered online training and coaching, job readiness training and supports, primarily via email, ZOOM and internet, to assist with learning about IT and for program supports while he took the online course.
Calvin was highly motivated and completed the program while working full-time and raising his year-old baby boy. "I don't like to be stagnant. I like to progress career-wise and financially. I like setting new goals." Additionally, Goodwill staff sent him relevant job ads and IT training and internship opportunities.
After fulfilling his goal of completing his education in IT, he was able to secure a position with Squarespace, allowing him to work one hundred percent remotely from Hawai'i. By gaining a better job and connecting with opportunities to access resources, Calvin has achieved greater financial stability for both himself and his 'ohana. His family is healthy, happy and he is enjoying a career in his field of choice, IT.
Calvin says, "I learned to not overlook opportunities just because I may not initially think I qualify for it." He advises others to "always strive for the best. It may not always pan out currently… but in the future it could really benefit you."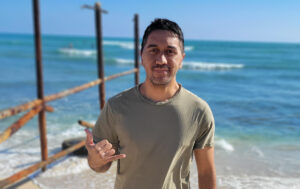 Contact your local Goodwill to learn more about similar programs available in your area.