By Beth Hannon-Penny, Older Worker Services Program Director, Goodwill Industries International
One in every five jobless Americans are people over the age of 55. At a time when employers need to build resilience, older workers can play a critical role. Older workers bring experience, reliability and perspective to every workplace setting.
One such individual is Gloria Coe. In 2018, Gloria was looking for training opportunities that would allow her to build skills and get a more desirable job. For several months she had looked for new employment, but she didn't have the computer skills or confidence necessary to find employment in her area.
One day, she heard about the Senior Community Service and Employment Program (SCSEP) at Goodwill of Central and Southern Indiana  (Indianapolis), where she enrolled and created an individualized career plan with a Goodwill SCSEP Guide.
Gloria had a few barriers that she felt were holding her back. Mats, a SCSEP guide, helped her connect with a nonprofit organization in Indianapolis where she started her training. Through this assignment, Gloria improved her time management, attendance and digital skills. In 2020, Gloria moved to a new training site at Community Action of Greater Indianapolis, a nonprofit organization dedicated to the reduction and ultimate elimination of poverty among the clients in its service area.
Gloria started as a receptionist at the front desk. She immediately contributed and learned new job skills. Over time, she began assisting case managers as they provided employment support and rental and transportation assistance to various clients from East Indianapolis. Community Action of Greater Indianapolis was overwhelmed with need resulting from the pandemic, so having Gloria training with them was a well-timed benefit to the organization.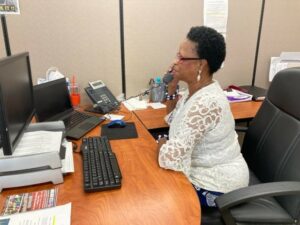 Her work ethic, positive attitude and attention to detail did not go unnoticed. After a few months of paid community service and job training, Gloria was offered permanent employment with Community Action of Greater Indianapolis as a Client Services Program Assistant, where she is still working today. Gloria enjoys knowing she is a valued team member and that others can rely on her to get the help they need.
All older workers deserve the opportunity to thrive. Goodwill helps older Americans through paid training, upskilling, ongoing support and assistance finding jobs that provide livable wages. If you are an older worker seeking help with training or paid work experience, contact your local SCSEP representative to see if you qualify. Find a SCSEP location near you to see if you qualify.
Anyone looking to learn more about Goodwill job training programs or career search assistance can also contact their local Goodwill.