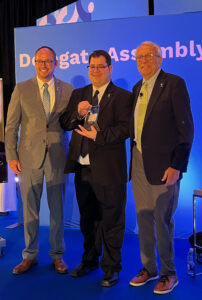 Jacob Barrett epitomizes the adage, "If at first you don't succeed, try, try again." For Jacob, who has a visual impairment, is deaf and has a disability, the added layers of challenges never prevented him from reaching for and achieving his goals.
Even as he finished his education at Indiana School for the Blind and Visually Impaired, where he earned a certificate of completion at 22 years old, he knew he would not stop learning. In fact, it was his dream  to earn his high school diploma.
Jacob got his chance when he learned about The Excel Center® while he was employed as a part-time book scanner at Goodwill of Central and Southern Indiana in Shelbyville. The Excel Center is a tuition-free adult high school operated by Goodwill where adult learners can earn their high school diplomas as well as industry-recognized certifications.
As one of the first students to enroll when the school opened in Shelbyville, Jacob entered the high school program with few credits. Over the course of two years, he earned his diploma and a certification in IT Fundamentals. It wasn't easy. He struggled with math and worked with a tutor for additional instruction. He says he took the end-of-course math assessment three times and finally passed on the fourth attempt.
Today, Jacob is a Shopgoodwill.com® product specialist. He is responsible for identifying, selecting and shipping high-value items to Goodwill of Central and Southern Indiana's ecommerce facility to support online sales growth. He continues to work with his Goodwill career coach to set future goals, including going to college and becoming an IT support specialist.
With the help and support of The Excel Center, Jacob enrolled at Ivy Tech Community College. So far, he has completed the Ivy Tech Comp TIA A+ Core 1 certification, and he is working toward achieving the Core 2 certification.
In addition to his full-time job at Goodwill and his college classes, Jacob also participates in multiple Special Olympics sports, including basketball, swimming, softball and corn hole.
Goodwill Industries International is proud to honor Barrett as its 2022 Achiever of the Year. The award honors an outstanding person with a disability or other disadvantaging condition who shows great progress and accomplishments in overcoming barriers to employment, while still benefiting from the Goodwill work environment or receiving services to support employment in the community.