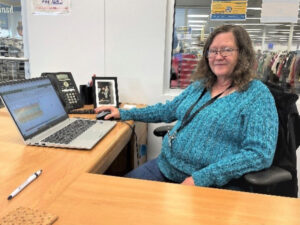 Goodwill is celebrating Older Americans Month and recognizing the contributions older workers (ages 55 and up) make both inside and outside the workforce. At a time when employers need to build resilience, older workers can play a critical role. They bring experience, reliability and perspective to every workplace setting.
Since August 2021, one such older worker named March has been helping visitors of the Warsaw Career Center discover career opportunities and resources. Beyond connecting participants to employment opportunities, she often finds herself lending a listening ear — something she recalls was offered to her during her time in the Senior Community Service Employment Program (SCSEP) through Goodwill Industries of Michiana.
In SCSEP, participants can receive paid on-the-job training through community service at local organizations for up to four years, while a Goodwill SCSEP career coach helps them to create individualized career and financial plans.
"SCSEP is a program that believes in meaning and purpose as something to discover and pursue in life," March says.
A series of circumstances, including a string of temporary jobs and losing her husband to a hit-and-run accident, led March to SCSEP. Prior to joining the program, she was looking to refine her résumé in hopes of identifying consistent employment. A Work One employee encouraged March to connect with SCSEP at Goodwill Industries of Michiana. During her time in the program, she was encouraged to look at her age as an asset rather than as a roadblock.
March found her employment-match while training in her first community service role. Through this assignment, she improved her digital skills, enhanced her administrative skills, and developed a positive rapport with staff, clients and community members. After a few months of training, she earned permanent employment with her host agency, the Warsaw Career Center. Her professionalism and calm demeanor to direct visitors immediately resonated with the Warsaw Career staff.
She offers advice to other current and prospective SCSEP participants, "Never give up, you can do this."
If you are an older job seeker looking for help with training or paid work experience, contact your local SCSEP representative to see if you qualify. Learn more about SCSEP and find a SCSEP location near you.
Anyone looking to learn more about Goodwill job training programs or career search assistance can also contact their local Goodwill.
Goodwill® proudly participates in the Senior Community Service Employment Program (SCSEP), a national employment and training program funded by the U.S. Department of Labor. A $22,938,400 million grant from the U.S. Department of Labor provided 90 percent of the funding for Goodwill's SCSEP programs in the program year 2021. Goodwill provided the remaining 10 percent through in-kind contributions worth $2,293,840. See http://www.goodwill.org/scsep/ for funding details.