"Goodwill steered me in a completely different direction."
— MARCUS
Marcus Wilhite brought years of experience with the United States Marine Corps to his role in donations operations at Goodwill.  Jobs as a heavy-equipment mechanic, welder, and boilermaker wore his body and spirit down. He was lifted up when an employee of the Veterans Affairs Southern Oregon Rehabilitation Clinic referred him to Southern Oregon Goodwill Industries for vocational assistance.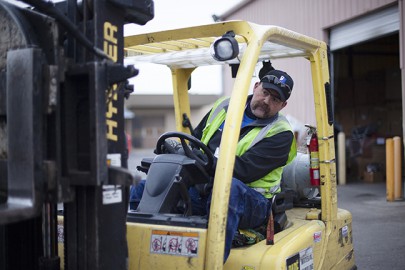 Director of Operations and Navy veteran, Steve Baker, facilitated Marcus' goal of working full-time. Marcus rapidly advanced from Production Associate 1 to Production Associate 4, a position created specifically for him, because of his team-driven work ethic, mechanical skills, desire to help others, and keen eye for improving processes.
"Marcus is always willing to go above and beyond in any area," Baker said, adding, "Usually before a question even can be finished, Marcus has already said 'yes'."
He also helped Baker create a veterans cohort of Goodwill clients and employees.
"I can't imagine where I would be without Goodwill," Marcus said.
The Story Behind The Store
NOTE: As originally posted on Southern Oregon Goodwill Industries. Marcus is a 2017 Southern Oregon Goodwill Graduate of the Year (Jackson County).