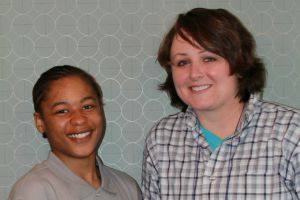 I was the one hanging out with the gang members on the street corners doing whatever, not really accomplishing anything with my life, you know… not even paying attention to what I was really doing. A friend of mine kicked me in the butt and was like, "You need to get a job, and Goodwill is having a job fair so come on, let's go." I went to a job fair at Goodwill Seattle (WA), and then I met Allison Gerttula. She told me about Goodwill's Youth Green Corps and I was like great, sign me up, and that's how I got started.
Youth Green Corps is a program through Seattle Goodwill's JTE (job training and education) and it's for 18 to 24 year olds. It's basically a program that teaches you about environmental stewardship, how to maintain forest restoration, build trails.  It also gives you an education piece so for people like me, who didn't have their GED prior to coming there, they pay for all your classes and they pay for every test that you need to take. Currently, I have three tests already passed and completed and I have one more test before I actually have my GED.
And then they have the classroom piece, and they teach you basic workplace etiquette.  They teach you life skills one-on-one like how to make a bank account, how to budget, set goals, reasonable goals for yourself. They also teach you how to work… how to build a resume and then they also give you employment specialists that actually help you look for jobs that are best suited for you.
They've all been super supportive of me.  Like they've pushed me to get my GED because I was kind of slacking on it and didn't really take it serious, but they are pushing me to do it because  I guess they see something in me that I don't see in myself, so yeah, it's pretty awesome.
Five years from now, I really hope that I'm still in Goodwill somewhere. I hope I saved thousands of people. I'm on a mission right now to save our young people because right now, the way the world is set up right now it's just looking like our young people are like losing their lives faster and faster and faster and I feel like if somebody like myself that had…has that experience as these young people come to them and say look, we can do something different.