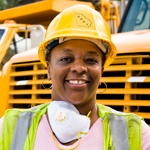 I grew up in Washington, DC. Then I relocated to Georgia with my children after my separation.  It was hectic being a single mom and a provider.
I had to build myself up financially, mentally and emotionally to get out there. I had to talk to myself every day and say, "Come on, Shay, get up! Do this because your children need you."
I walked into a Goodwill of North Georgia career center and they showed us a video.  Then they said, 'Have you ever thought about transitioning into the construction industry?"  I liked what I heard and what I saw in the video. And I said, "Why not? Let's give this a try."
The training lasted almost two months. I followed up with my job counselor at Goodwill, filled out an application and obtained a job at the Georgia Department of Transportation (GDOT). It was a very smooth process.
Now I am able to afford a three-bedroom townhouse with wall-to-wall carpet, and a washing machine and dryer — all of the perks and amenities! I love it.  My kids are seeing it and tell me "Mom, you're our mentor."