Do you remember your first time thrifting? The nervousness, the uncertainty — the thrill? The first trip to Goodwill® is always the start of something great, but it's been so long since I've been a thrift shopper that I sometimes forget that other people might not be. I mean, I've literally made it my mission to study thrift culture.
So when I recently heard my friend utter the words "I've never been to a thrift store before," I was in shock. I knew I had to introduce her to the awesomeness of thrift life. I offered to assist with her first foray into the racks, and being the great sport she is, she agreed.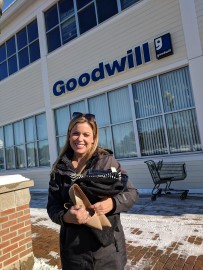 Credit: Jenna Pfueller
Emilie has AMAZING taste, and luckily total game for a new adventure. I always love having a person to dress instead of myself, because A) my closet is full enough and B) it's like playing Barbies I was a kid.
We chatted a bit about her favorite brands, colors and patterns, then set off in different directions to scour the racks for some goodies to try on.
She picked out a few things she liked– a striped blouse, some jeans, a few skirts in muted colors. And I picked out a few things I thought she'd at least enjoy trying out– a floral dress, a few pairs of cute pumps, a gingham ruffle dress, and a vintage leather jacket.
Credit: Jenna Pfueller
It wasn't until I got into the dressing room with her and laid out our items that I understood the gravity of what was happening. Emilie confessed not only has she never been to a thrift store, one of her most recent shopping trips involved a personal stylist and complimentary champagne!  She has literally NEVER owned anything that wasn't new. This is a HUGE step for her and I am so excited to help open the door to this new, thrifty and stylish world!
Her (first!) thrift store haul included:
A pair of a nude heels (BRAND NEW!)
A pair of jeans
A blouse
A cashmere sweater dress
Long sleeved tee
Total = Less than $35!
Here's a quick Q&A with our new thrifty comrade:
Q: Why hadn't you ever been to a thrift store before? Any particular reason?
Emilie: I wouldn't say I'm a germaphobe, I just don't like used things. I don't check out library books. I don't own antiques or other secondhand furniture. I've never bought a used car. It honestly has never been on my radar to shop at a thrift store. Weird, right? But I donate allllll the things to my local Goodwill.
Q: What surprised you (if anything?) on your first foray into Goodwill?
Emilie: Well, That I actually did it and enjoyed it. That you left me alone to shop and I didn't walk back out. It was not how I imagined it to be. The vastness! I expected it to smell like my grandmother's closet of mothballs, but it didn't. I expected the clothing selection to be mostly 70s jumpsuits or other Halloween-appropriate attire. I saw none. I saw name brands! And clothes that appeared freshly washed (they aren't) because I was surprised at how well cared-for mostly everything appeared. I loved listening to and talking with the employees, each one incredibly personable and hard working. Let's be honest, it was all one great big surprise.
Q: What were you most excited about?
Emilie: Barely worn nude name brand heels! And $3 jeans, say what?! The most recent pair of jeans I purchased was $250. This single mom can get excited about that cost savings. One of my New Year's resolutions is to Say Yes. Shopping with you was a fun and memorable experience, something I ordinarily wouldn't have done. It's a nice reminder to try new things because (as Daniel Tiger says), you might just like it!
Q: Show us a pic of your favorite find and tell us a little about why you liked it.
Emilie: I have never had a (cashmere!) sweater dress. I get lost in the bulk and boxiness of the cowl neck. This one offsets my booty work at the gym and the short (yikes!) length well enough to give it a try! And all the heart eyes for those shoes. Also, who says to avoid horizontal stripes now?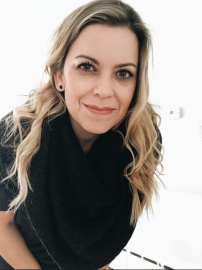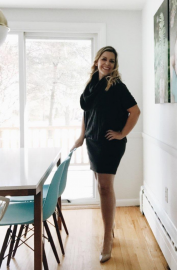 Credit: @photoemilie