Walmart Expands Education Benefits for Employees
By Malini Wilkes, GII public relations and multimedia manager
This month's Social Good blog explores a groundbreaking education initiative for Walmart employees.
At a time when the average college grad owes more than $37,000 in student loan debt, Walmart is offering its employees a college education for just one dollar a day.
The retailer has announced that it's expanding its Live Better U education benefit, to include 14 technology degrees and certificates through six universities. The program puts the dream of a college education within reach for working adults who want to get ahead without taking on tens of thousands of dollars in debt.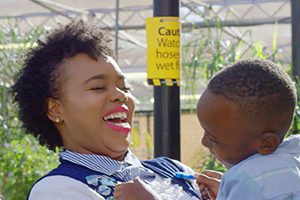 "When I found out about the dollar-a-day program, I jumped on it," said Janine Johnson, a working mom and Walmart associate from Orlando, FL, who hopes to become the first in her family to graduate from college. "I feel like I'm opening the door for generations after me to know that anything is possible."
When Live Better U first launched last year, it offered degrees in two areas: business or supply chain management. This year, the program has added technology degrees and certificates that prepare associates for careers in competitive fields like computer science, information technology, cybersecurity and Java programming. The program also offers free high school completion and offers benefits to current high school students, including ACT/SAT prep courses and seven completely free college credits.
Walmart covers tuition, fees and books. The employee pays just $365 per year to participate.
"Walmart values learning in all forms, and we are committed to creating a workforce of lifelong learners and instilling in them excitement for retail and a passion for serving customers," said Greg Foran, president and CEO of Walmart U.S.
Students can enroll in either selective or open-access online programs at six accredited, nonprofit universities – University of Florida, Southern New Hampshire University, Purdue University Global, Wilmington University, Brandman University and Bellevue University.
Recognizing that adult learners sometimes struggle with the demands of work and family, Walmart has engaged with Guild Education to make sure that students follow through and finish their degrees.
"Guild coaches help our students every step of the way, from filling out their applications to helping pick out classes," said Michelle Malashock, a Walmart spokesperson. "Some of our associates have never attended college, or it's been awhile since they were in school. Coaches check in with the students regularly to answer questions or help them celebrate their accomplishments and define their educational goals."
Also new this year, Walmart has introduced a graduation bonus of $1,500 to encourage students to complete their degrees. A select number of associates (up to 5,000 a year) will receive the bonus at the completion of their bachelor's programs.
Since Walmart announced its partnership with Guild last year, more than 9,000 associates from all 50 states have been accepted into at least one of the programs.
For Walmart, Live Better U is a win-win proposition. A well-educated, highly skilled workforce makes the company more competitive, and the college benefit is a way to attract, retain and motivate top talent.
Johnson, the associate from Orlando, is an example. She is on track to earn her bachelor's degree in business management and leadership next year, and she's just getting started. She wants to pursue a master's degree after that.
"The time is now!" she said.