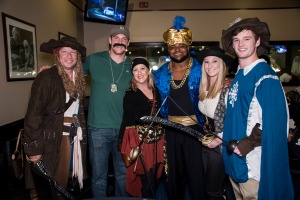 Goodwill Industries of the Chesapeake (Baltimore) held its 15th Annual Goodwill Gridiron Halloween party on October 27 at a nearby Dave & Buster's. This year's event featured Baltimore Ravens tight end Dennis Pitta, kicker Justin Tucker, defensive tackle Brandon Williams and many business community leaders.
The party attracted 465 attendees and raised nearly $115,000 for Goodwill's training and employment programs serving individuals with barriers to employment.
"As a part of the community it's great to be involved with Goodwill® once again," said Pitta prior to the event. "It's a fun night, and knowing that it supports job training and employment makes it impactful as well."
The party consisted of video games, billiards, bowling, dancing, a costume contest, catered food, an open bar and a silent auction. Items auctioned included a trip to Aruba, Disney World, Hawaii, gift certificates from many local restaurants and hotels, autographed memorabilia from the Ravens, Prince, The Rolling Stones, Sylvester Stallone and more. Items that did not sell were moved to an online auction that ends on November 12.
 The Goodwill Gridiron Halloween Party was created 15 years ago by Goodwill board member and Baltimore Ravens Senior VP of Public and Community Relations Kevin Byrne.