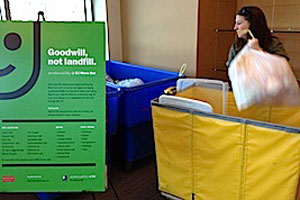 In just four years, the weight of goods donated by Boston University (BU) students during Morgan Memorial Goodwill's 'Goodwill Not Landfill' donation drive has nearly tripled. From April 22 to May 20, the university placed Goodwill bins in 15 locations – including every dorm – so that students could easily give away items they no longer needed as they cleared out their rooms to leave for the summer. The Goodwill® also placed bins at the front of its store near campus so students who live off campus could also contribute.
"Last year was our most successful drive with BU, collecting 61.18 tons in five weeks," said the Goodwill's Director of Operations Bill LaBelle. "This year we not only exceeded our goal of 75 tons, but we blew it out of the water, coming in at more than 90 tons."
Since the first donation drive in 2010, when students donated 35 tons of goods, the Goodwill has increased its social media messaging on the topic. The university further promotes it through posters and its [email protected] website and Facebook page. In addition to information about dates and locations, the university spreads the word about what items can and cannot be donated.
"Over time, we've developed a stronger relationship with BU, so they talk about it internally, and we talk about it and promote it at our store on Commonwealth Avenue," said the Goodwill's Director of Communications James Harder. "It's really gained momentum."
Harder added that the awareness and popularity of thrift stores among college students helps. The environmental message also resonates with them, and it doesn't hurt that Rev. Edgar Helms is a BU alum!