When you set foot into the Recycling Center, located at Goodwill KYOWVA's location on Virginia Avenue in Huntington, you are met with a bustling warehouse. All hands are on deck as employees sort through items, separate them into categories, compress items into smaller bales, and ship them out to various locations. The warehouse is intricately organized—each category of material is mapped out, down to the square foot. The space is filled to capacity with recyclables and equipment.
Most people think of plastic bottles and aluminum cans when it comes to recyclable materials. However, Goodwill Industries of KYOWVA Area, Inc., takes it further. Goodwill of KYOWVA is located in the region covering Milton, Huntington, and Lavalette in West Virginia and Ashland, Louisa, and Grayson in Kentucky. The organization has the largest recycling center in the city of Huntington. In 2021, Goodwill KYOWVA recycled more than 2.5 million pounds of material in the following categories:
Textiles, linens, books, shoes, purses, belts, hats, purses, cardboard, metal, stuffed animals, bric-brac, cell phones, paper, disc media, computers and accessories, vinyl records, digital cameras, scientific calculators, gaming systems, SMART boards, cords, fax machines, scanners, and copiers.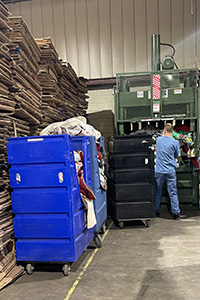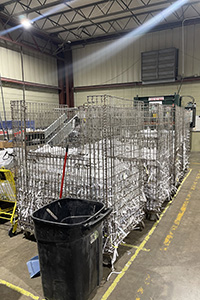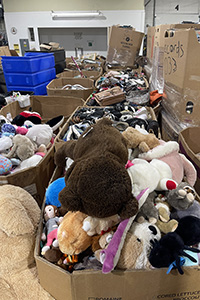 Most of these items are outside the stereotypical realm of what most consider recyclable, but Goodwill KYOWVA likes it that way. These items typically end up in a landfill and take decades to fully decompose. With the threat of global warming and the immense amount of garbage polluting our land and sea, sustainability is more important than ever.
Not only are Goodwill KYOWVA's recycling efforts pushing toward sustainability and zero waste, they employ people with disabilities so they have the opportunity to sustain themselves. Graduates from the organization's Employment and Training programs and the surrounding community often work in the Recycling Center, helping sort items, operating baling equipment that compresses the materials, and other tasks. Out of the 250 people Goodwill KYOWVA employs, more than half have physical or intellectual disabilities.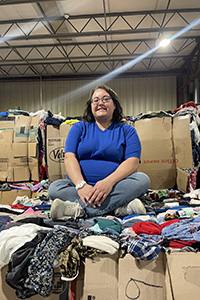 Robin Loraditch, Goodwill KYOWVA's Recycling General Manager, runs a tight ship.
"I enjoy working in the recycling center because I feel like I am contributing to improving some global issues, like pollution," Robin said.
These amazing recycling efforts cannot be achieved alone! Goodwill KYOWVA partners with more than 30 schools in West Virginia for cardboard and paper recycling. Goodwill also works with Dell to offer free and responsible electronics recycling. Their doors are open 7 days a week  for recycling intake, hosts monthly recycling events, and collaborates with multiple cities and counties to host larger recycling events throughout the year.
In 2021, Goodwill KYOWVA was selected by Goodwill Industries International for the Sustainability Champion Award. The award is given to organizations who excel in prioritizing the 3 P's of sustainability—Planet, People, and Prosperity. Alissa Stewart Sparks, Goodwill KYOWVA's Chief Executive Officer, said she wished more people knew that Goodwill was one of the original "green" companies.
"We work day in and day out to reduce waste to landfills, whether it be through selling gently used clothing, or recycling. That is our goal when we come into work everyday."
The folks at Goodwill KYOWVA strive to promote sustainability and 'going green' to their local area, and love to see recycling efforts being adopted by individuals and businesses in the community!