Goodwill South Florida (Miami, FL) is celebrating the 10-year anniversary of the premiere of the inspirational and award-winning film For Once In My Life.
The documentary chronicles the struggles and triumphs of a band of talented singers and musicians who have mental and physical disabilities. A deeply moving film, the documentary challenges the world's perceptions of people with disabilities and what they can do when given an opportunity to succeed.
There are two ways you can honor the film's anniversary:
Join the nationwide watch party of For Once in My Life by streaming the movie on Amazon Prime on September 18, 2020, at 7 p.m. eastern. Amazon Prime members will be able to view the movie for free, while non-members can enjoy it for a small fee.
Participate in the For Once In Your Life – 5 Day Challenge to connect with the band members leading up to the watch party. The challenge is a community engagement experience that will connect online for one hour or less each day. It is designed to use the lessons in the film to inspire each person to redefine their purpose, examine their mental health and analyze their impact on their community and the lives of others, especially during these difficult times. Once you've joined the challenge, you can also join the private Facebook group that has been set up for this event.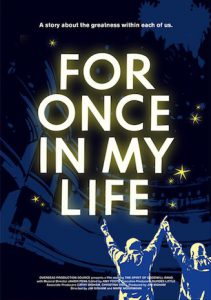 For Once in My Life shows how the band members' unique talents have been nurtured while their disabilities are accepted and supported. It celebrates the greatness within everyone, regardless of our barriers and differences. The uplifting and positive message is welcome and refreshing, especially during the difficult and unprecedented times.
Goodwill South Florida has been helping people with disabilities by providing them with employment training and jobs for more than 60 years.
Watch the trailer here. Experience the film on Amazon Prime here or on iTunes here. Follow the film's Facebook page here.