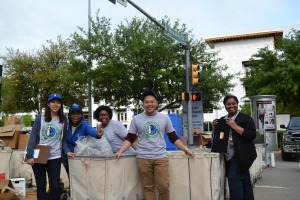 Goodwill Industries of Dallas (TX) and the Dallas Mavericks partnered to offer an e-cycle and spring cleaning drive from April 6-11. During the drive, 680 different community donors gave 60,860 pounds of material goods, a record-breaking amount for each group. The drive drew heavy media coverage, with television, radio, print advertisements and social media generating $184,170 in publicity value.
"We are thrilled to have been a part of such a successful partnership with the Dallas Mavericks," said Goodwill Dallas CEO Rod Ginther. "Goodwill strives to be good stewards of our resources by diverting electronics and other household donations from the landfill."
The donation drive combined the recycling of used electronics from community members as well as household goods such as clothing and small appliances. Community donors were able to drop off goods at Goodwill valet donation centers during the week as well as at the American Airlines Center, home of the Mavericks on Saturday, April 11.
Local media assisted in promoting the drive to interested community donors. The Dallas Goodwill and the Mavericks appeared on major local television news networks, explaining the purpose of the drive and educating north Texas residents about the Goodwill mission.
The Goodwill partners with Dell as part of the Dell Reconnect program to recycle donated electronics, recycling thousands of pounds of electronics back into the market in its Computer Works storefront. Goodwill accepted hardware such as computers, hard drives, disk drives and peripherals such as mice, keyboards and speakers at the drive.