Goodwill® has been on the frontlines of helping people grow their skills, find new jobs and build their careers throughout our 118-year history. As the unprecedented COVID-19 pandemic forced nearly all Goodwill organizations to temporarily close retail locations and other facilities, many have formed partnerships at the local level to respond to the crisis and help people get much-needed resources.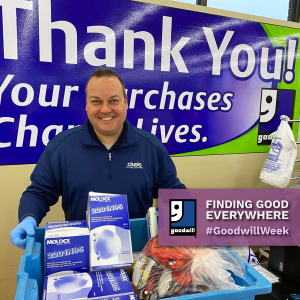 Goodwill organizations in Georgia, Indiana, Kansas, Michigan, Missouri, North Carolina, Ohio, and Texas collected personal protective equipment (PPE) to donate to area medical personnel and hospitals to help alleviate their short supplies.
In Florida, Kansas, Maryland, and Missouri, Goodwill organizations donated fabric to make masks for local medical personnel, as well as large t-shirts and scrubs for those facilities that are in short supply. In Nevada, the Goodwill organization is providing clothing donations to medical workers who cannot return home in the same clothes they wore during their shifts.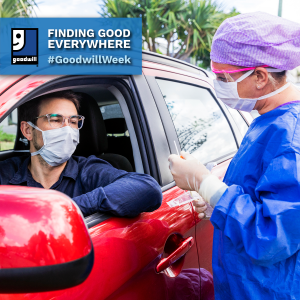 Goodwill locations in Maine, Mississippi, and Missouri offered their parking lots and donation centers to the state to conduct drive-thru COVID-19 testing.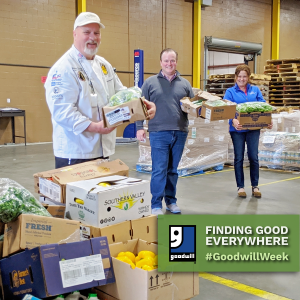 In Arkansas, California, Colorado, Georgia, Iowa, Louisiana, Maine, Michigan, North Carolina, Ohio, West Virginia, and Wisconsin, Goodwill organizations partnered with local food banks and shelters to provide much-needed supplies and nourishment to those most affected by the health and economic crisis.
In times of crisis, coming together as a community is vital to ensure the health and safety of our neighbors. The people we serve work hard to overcome personal and professional challenges to employment. In times of such economic uncertainty, our services are urgently needed.
This Goodwill Week, you can help provide critical resources to individuals in your community who are most at risk with the reality that COVID-19 has created. If you are able to give a financial donation to Goodwill to support those who are working to improve their lives, please visit give.goodwill.org.