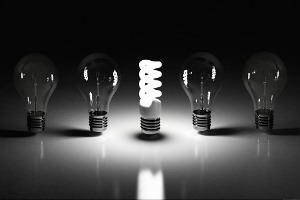 What if the next best idea or great app for your company is just waiting to be revealed, but the employee who created it is not a part of the conversation because their title just doesn't fit with your idea of who should be in the room?
Gallup surveys show that 68 percent of U.S. employees are either "not engaged" or "actively disengaged"—resulting in lost organizational productivity and industry competitiveness. Keeping this in mind, a growing number of companies have open platforms for anyone in or outside of the organization to submit ideas.  For an example, The Clorox Company has an online site CloroxConnect that states, "we've opened the door to innovation. Because the next big idea can come from anyone, anywhere."  This portal allows inventors, partner organizations or any employee of the company to submit ideas for products.
However, Clorox isn't the only organization providing a new venue for creative thinking. Initiatives from several other major brands came to my mind when it came to crowdsourcing for fresh concepts.
Microsoft sponsors the annual Imagine Cup Innovation Competition, a global contest for the best new innovative software and the winning team will take home $50,000. The competition is open to students 16 and older worldwide.  Incredible, world-changing software innovations have often come from students – social networks, music services, digital photography apps, gadgets and robotics – the list goes on. They are always looking for the next big thing and they listen to their internal teams in addition to external voices. What a great way to get creative ideas and really show inclusion, than with students. So many people don't think kids can be inventors or they should be seen and not heard, this competition exemplifies inclusion. A young person in England or Africa or India can have a voice! They can have hope.
Johnson & Johnson, a 125-year old consumer health company, has Innovation Centers representing new approaches to partnering aimed at advancing early-stage invention. When I previously worked for the American Cleaning Institute (formerly The Soap and Detergent Association), Johnson and Johnson was a member of the association. They have a great company culture, and I was able to travel to their headquarters and see an Innovation Center in action.
Their teams of science and business experts collaborate with visionaries to accelerate cutting edge science into healthcare solutions. It is quite powerful to see scientists in the U.S. working virtually with peers in China or Canada to create solutions for everyday common problems that can change people's lives.  Diversity is not just about race or ethnicity, it is about diversity of thought! What a powerful way to bring great minds together, that may not normally be included together in the creative process.
Finally, the AT&T Mobile App Hackathon Atlanta for Women in Tech and Home Automation (sponsored by AT&T Foundry) also sparked my interest.  Of particular note was the online innovation space blog, where employees can engage, connect about their current work, achievements and community outreach.
Now is the time to stop and take a pulse of your organization. Online survey tools can be inexpensive, quick and provide great information on what employees want in their jobs, how they feel about the organization and what ideas they may have to contribute to its success.
When everyone is given an opportunity to be heard, synergy is increased, engagement is improved and buy-in for organizational change is easier to manage. That next great idea could be just around the corner, being shared in the employee lounge at the microwave, placed in the company suggestion box, or discussed by two people across in a nearby conversation about what could have been done more efficiently in that last major project, if they had been in the meeting.
Are you ready to listen?