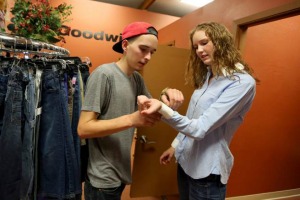 Goodwill Industries of the Redwood Empire (Santa Rosa, CA) and Social Advocates for Youth (SAY) have joined forces in a partnership that benefits homeless and low-income children, youth and families.
Through the generosity of the community, SAY receives a number of donations of clothing, furniture, and other items. However, some of those items are not appropriate for their clientele. Through this partnership, Goodwill will collect these donations and convert them into vouchers for youth to shop for the items they need.
"Matt Martin, executive director of SAY, recently mentioned to me how their agency often receives donations of goods from their supporters. Unfortunately, some of the items are not always useful to the teens, or they lack the space to store some of the larger items. SAY wanted to find a way these donations could be used. I realized Goodwill has the mechanism to help bridge the gap," said Mark Ihde, president and CEO of Goodwill ~ Redwood Empire.
A recent article in The Press Democrat emphasizes the significance of teenagers being able to shop at Goodwill for age-appropriate clothing that helps them fit in with their peers – rather than being limited to what a person might donate directly to SAY.
 "This empowering program will allow homeless youth who are struggling to find the right clothes, or the goods they need, to set their own budget, create their own shopping list, and shop for items at Goodwill that really match their style," SAY Director of Development Cat Cvengros explained.
"Everyone deserves a shopping experience like that, and we're excited to partner with Goodwill to empower these youth."
Read more about the partnership in The Press Democrat and on GIRE's website.
Photo credit: Crista Jeremiason / The Press Democrat