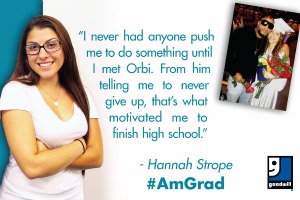 Recent data shows high school graduation rates across the U.S. are at an all-time high, surpassing 81 percent. Studies also indicate that a young person's success can be greatly enhanced by a champion or mentor, an adult who consistently helps in ways both big and small. Goodwill's GoodGuides program is among several mentoring success stories that were featured on PBS's "American Graduate Day" broadcast on October 3.
"Being a mentor for a student is one of the greatest ways to help him or her stay on track and achieve academic success," said Jim Gibbons, president and CEO of Goodwill Industries International. "Goodwill is proud to be among the organizations highlighted in 'American Graduate Day' for assisting youth in high-risk situations make better life choices."
"American Graduate Day" is an annual, multi-platform broadcast produced by WNET New York Public Media and the Corporation for Public Broadcasting. The event features national and local segments showcasing community organizations and individual champions that provide support, advice and intervention to at-risk students, families and schools. Viewers can participate on social media using the hashtag #AmGrad.
Hannah Strope, a participant in the GoodGuides program at Goodwill Industries of Central Florida (Orlando), and mentor, Orbi Rosario, were featured in the all-day broadcast of "American Graduate Day." Their segment aired on PBS stations in 50 affiliate markets.
While Hannah has had a few mentors through the program, Orbi was the most influential after Hannah was involved in a serious car accident and struggled to stay in high school. Through the support of her GoodGuides mentors, Hannah also overcame financial struggles and family instability to become the first in her family to graduate high school. She now attends college and serves as a mentor herself.
"I never had anyone push me to do something until I met Orbi," Hannah said. "From him telling me never to give up, that motivated me to finish high school."
The GoodGuides program serves youth, ages 12-17, who are at risk. The program helps them finish school, transition into the world of work and prepare for success by pairing them with trusted adult volunteer mentors. Mentors help youth overcome disadvantages such as failure in school due to poor grades or low attendance, oravoid delinquency due to issues such as abuse, disability, drug or alcohol dependence, family violence or gang membership.
"We need to bring attention to the need for more champions to help all students navigate the challenges in and out of the classroom," Gibbons said.
View the GoodGuides segment that aired earlier this month.