Program Graduates Showcase Skills to Local Employers in Pitch Competition
By Mercedes Castro, Digital Skills Engagement and Communications Specialist and Jomaira Martinez, Digital Skills Program Specialist, Goodwill Industries International
Goodwill Industries of the Southern Piedmont hosted the-first-of-its-kind Technology Skills Showcase earlier in October. Organized similarly to a pitch competition, the event featured a panel of employers who observed and provided feedback to a group of the organization's technical graduates as they highlighted their skills and abilities relevant to industry trends within the technology field. An opportunity for Charlotte's job seekers and businesses alike, the event was an effort to connect graduates from the organization's Information Technology training programs with local hiring managers in the industry.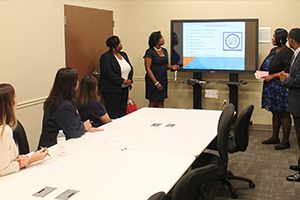 During this October's event, Goodwill Industries of the Southern Piedmont engaged ten of its most qualified tech students and grads from their Quality Assurance, Web Development, and Salesforce Administrator courses to present individual projects offering solutions for real-world business problems. At the end of each presentation, participants delivered a brief elevator pitch explaining the value of their professional skills, education and IT training to the employers' respective businesses. The panel of employers engaged participants throughout, evaluating their individual presentations and providing feedback.
Feedback from the Technology Skills Showcase was overwhelmingly positive from both employers and participants. The hiring managers present were very impressed with the talent and skills represented among the participants, as well as the content in their individual presentations. Many of them are currently in the process of following up with participants in regards to job openings and next steps.
An innovative approach to connecting graduates with job opportunities, the Technology Skills Showcase is just one example of the many ways local Goodwills are implementing innovative strategies and tactics at a local level.