By Katherine Michaud Smith, Creative Services Program Manager, Goodwill Industries International
On a warm October morning, eager job seekers came by bus, car and on foot, dressed in their best and hungry for opportunity. There to meet them were equally excited hiring managers looking for their next great hires. At the Goodwill® Community Center in Austin, TX, the Indeed + Goodwill commitment came to life.
In May 2019, the world's number one job site, Indeed, committed to helping one million job seekers around the world find employment over the next five years. As a strategic partner, Goodwill is working with Indeed on this goal.
Since the collaboration began, local Goodwill organizations across the country have been hosting Indeed hiring events, bringing in employers with immediate hiring needs who can make on-the-spot job offers.
"Indeed's mission is to help people get jobs," said Chris Hyams, CEO of Indeed, at the launch of the partnership in May. "Though we are in the midst of one of the strongest labor markets in recent memory, we know there are millions of people still struggling to find work. The right job opportunity can change someone's life, and working with Goodwill will help us reach people who need extra support to find it."
In Austin, Goodwill of Central Texas recently held an Indeed Job Market + hiring event as part of its commemoration of Digital Inclusion Week, a national observance to raise awareness of solutions addressing home internet access, personal devices and local technology training and support programs.
During the event, Indeed offered one-on-one job search consultations, job search and interview workshops, professional headshots, and interview opportunities with Omni Hotels and Resorts.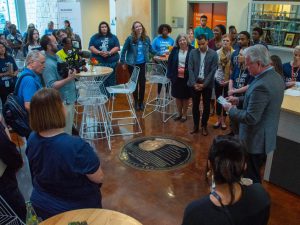 Workshops kicked off with "Ready for the Interview" to prepare job seekers for successful hiring events and interview experiences. Next, "Job Search Journey" taught attendees the essential steps of the job search process and how to use Indeed products to be successful. Finally, "Success in the Workplace" gave information about how to make a good impression at a new job and tips on workplace professionalism while highlighting key information about opportunities at Omni.
During job search consultations, Indeedians (as Indeed employees are called) provided additional job search guidance, résumé reviews and product demos, while answering job seekers' questions specific to their searches.
As the sun warmed the day, 200 eager job seekers participated in the Austin event, and 29 received contingent offers on site, with 24 advancing to final-round interviews at Omni locations.
"Indeed + Goodwill hiring events give us an opportunity to show employers what our job seekers can do and that their next great hire may come from somewhere they don't expect," said Steve Preston, president and CEO of Goodwill Industries International.
Learn more about the Goodwill partnership with Indeed. Find a hiring event near you.