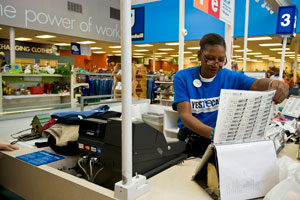 Goodwill of the Heartland (Iowa City) has been recognized as one of the Top 100 Workplaces for 2013 by the Des Moines Register. The agency was honored at a ceremony last month.
"The survey shows that Iowa employees put the highest importance on believing their company is going in the right direction and feeling appreciated at work. They want to feel connected to the mission or purpose of their company. They are concerned about truth, trust, respect, caring and transparency," said Pat Airy, the local agency's president and CEO.
The rankings are based solely on employee opinions from an anonymous survey of around 80,000 respondents conducted by WorkplaceDynamics. The survey of companies across Iowa asked employees to share their satisfaction with their workplace, including what is most important to them and how their employers rate on these priorities.
"Everyone at Goodwill whole heartedly embraces the mission and it's this commitment to the mission that makes Goodwill a great place to work," said the agency's Human Resources Director Wendy Bucklin.
One unique program that the agency attributes to its success is the Dream Mentor Program which encourages employees to pursue their goals. Participants can meet confidentially with a dream coach to discuss goals such as completing their college education or starting a business of their own.
Tom Cavanaugh, a production manager for the Iowa City Goodwill said, "We know that our work is never done. The unmet needs in our communities are many, so that keeps us striving to do more and also creates an environment of wanting to continuously improve what we do."