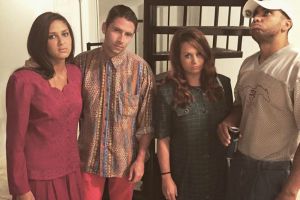 A young Florida couple is being credited for creating what might be the next big date night trend: "Goodwill Date."
The idea was initially conceived when Cody Andrews and his girlfriend Paula Williams, were donating items and shopping at their local Goodwill store in Fort Walton Beach, FL. The duo selected a quirky outfit for each other and then went on a date without informing others of their plan. They also challenged friends to participate.
Andrews posted a photo from one of his outings on Facebook. The picture received 4,000 shares only four days after being uploaded and its accompanying caption reads, "Hitting McGuires for dinner then out for drinks. Official rules: each person picks out their significant others (or BFF's) surprise outfit at Goodwill, $10 budget, outfit has to be gender appropriate. When on the date you can't tell people it's a joke. When you upload your picture you have to challenge two more couples."
While some spectators appeared confused by how the "Goodwill Daters" were dressed, the reactions have been positive overall, which was the goal according to Andrews. Those responding to his dare have been using #goodwilldate to display their attire on social media channels such as Instagram and Twitter.
"Even if we were millionaires, we would still shop at thrift stores. It's good for the environment, the organization itself and you can find some very unique items from every decade in the last fifty years," Andrews told ABC News.