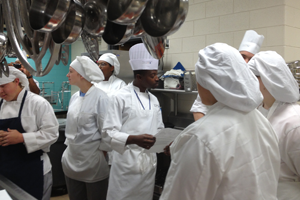 The Helms College Augusta Campus recently celebrated its first graduating class. Participants completed a culinary education program at the college, which is operated by Goodwill Industries of Middle Georgia and the CSRA (Augusta/Macon).
A total of 10 students took part in an informal ceremony to recognize their accomplishments on September 19. Instructors, staff members and other Goodwill employees lined the school hallway banging pots, pans and metal bowls as a way of congratulating their pupils. The local ABC affiliate, WJBF, was also on site to cover the event.
Program graduates came from a variety of different backgrounds. For some, this was a chance to receive training toward their first job while others had more experience and wanted a career change.
"(The diploma) gives them that entry-level education where they can go to any kitchen and comfortably work through the ranks," said chef David Ross, the culinary education department chairman.
Helms College provides nationally accredited culinary education at campuses in Augusta and Macon. Since starting in Macon in 2007, the college has expanded to include the Augusta campus and is poised to grow with additional campus sites. Prospective students can enroll in fall quarter classes beginning October  7.