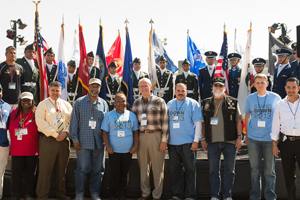 Goodwill Southern California (Los Angeles), along with the Department of Veterans Affairs and more than four dozen community partners, held its first Veteran Stand Down on October 10-11, at Los Angeles Historic Park.
"Stand down" is a military term designating that a combat unit has temporarily moved out of the field and back to base camp for rest and rehabilitation. It is now also used to describe organized community events for at-risk and homeless veterans and their families.
The event aimed to meet the basic needs of attendees by providing a variety of free services including meals, clothing, haircuts and makeovers, health screenings, VA and Social Security benefits counseling, and referrals to other services such as housing and employment for veterans and their families.
Attendees had the opportunity to speak with counselors, spiritual advisors and other veterans who have struggled with homelessness, substance abuse or reintegration into the civilian world.  This unique setup, which also included entertainment and wellness recreation such as yoga and tai chi, helped to initiate the process of healing and moving toward a more stable, less stressful lifestyle. It also allowed the agency to offer real tools and solutions for each individual's challenges in an authentic "you are not alone" community environment.
Craig Smith, president and CEO of Goodwill Southern California noted, "Goodwill is excited to bring a wide range of partners together to respond to and address the unique needs of veterans who have served our country and now face the challenge of transitioning into the civilian world."
A creative feature was installed in the center of the event to provide veterans and service partners with an opportunity to work together on a community collaborative mural designed and donated by acclaimed Chicano artist and Goodwill Southern California employee David Flury.
After serving nearly 350 men, women and children during this event, the stand down will now be an annual event intended to serve veterans with the dignity and care that they deserve.