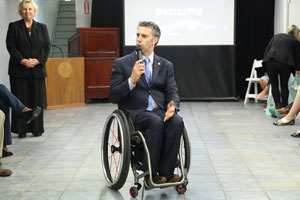 Goodwill Industries of Greater New York and Northern New Jersey (Astoria) held its second annual fashion show to kick off National Disability Employment Awareness Month (NDEAM) on October 1 at the agency's East Harlem store. Goodwill Suits You 2013 was coordinated in conjunction with the New York City Mayor's Office for People with Disabilities using merchandise selected from local Goodwill stores by six popular fashion bloggers.
The event focused on how people with disabilities can dress for success. Participating bloggers met with the models for a month to select outfits based on each individual's career goals.  Goodwill program participants, students and job seekers with disabilities partaking in the annual Disability Mentoring Day (DMD) later this month served as models during the event and were able to keep their ensembles from the show.
Approximately 150 people attended and participated behind the scenes. The audience included other DMD mentees, Goodwill program participants and staff, and partners from other nonprofits and corporations.
"Employees with disabilities are among the most dedicated workers and have higher rates of retention. That reduces a company's hiring and training costs," said William Forrester, president and CEO of the NY/NJ Goodwill.
Check out a behind the scenes clip from Goodwill Suits You 2013: