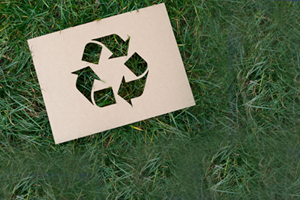 As part of a recycling partnership between Zanesville Welfare Organization and Goodwill Industries (OH) and CertainTeed's Moundsville, WV, gypsum manufacturing facility, employees at the plant diverted more than 400,000 pounds of waste from landfills since last year. While recycling began shortly after the plant opened in 2008, the collaboration began in 2011.
Through the program, the Zanesville Goodwill collects, sorts and processes recycled materials received from CertainTeed while providing jobs to help individuals in the community improve their quality of life. Materials recycled include plastic, shrink wrap, electronics, batteries, brown paper rolls, semi-bulk bags, wood pallets and corrugated cardboard.
"Through recycling partnerships like this one, we are able to provide meaningful jobs for people with challenges to employment and help partnering businesses reduce their environmental impact," said Jake Chema, vice president of recycling and manufacturing operations for Zanesville Welfare Organization and Goodwill Industries. "We're thrilled that CertainTeed has chosen to partner with us. It's a testament to the company's commitment to both environmental responsibility and to improving the communities where its employees live and work."
"As part of our plant's ongoing environmental programs, our team discovered that there were waste materials that weren't being recycled because they were too large or too inconvenient to transport, and we did not have room to hold a full truckload of recyclable material," said Charles Johnson, Moundsville plant manager. "Goodwill Industries was able to accommodate us at a moment's notice if we need to make room with scheduled and non-scheduled pickups, and it's great knowing we're contributing to a program that's helping create jobs in the community."
The recycling program has also inspired the employees at the plant to keep waste reduction and environmental stewardship top-of-mind in every aspect of their jobs.
"Seeing the amount of waste recycled through this partnership also helps us explore new ways to reduce waste," Johnson added. "The recycling bins are a constant visual reminder to continually improve how we do things."
The Zanesville Welfare Organization and Goodwill Industries has operated its recycling program since 1914.