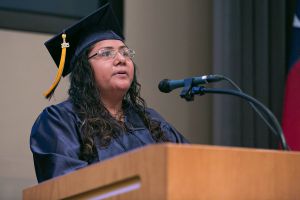 "When I learned I could earn my high school diploma, even at age 36, it was like a light bulb went off. A door was opened. My life, my history, my story…was about to change, forever. The [Goodwill] Excel Center is powerful – it turns what we once only dreamed about into a reality," said Keisha, who addressed the audience at the inaugural graduation of The Goodwill Excel Center in Austin, TX.
On June 26, forty-three students received their high school diploma in the company of hundreds of joy-filled, enthusiastic supporters. Texas Commissioner of Education, Michael Williams, was the Keynote Speaker for the ceremony. "You are courageous. You've expressed it and demonstrated it by being here today," Commissioner Williams said to the students. "Take that courage to go even further."
In addition to their high school diplomas, many students also received certifications in accounting/bookkeeping, nursing, and technical areas.
The Goodwill Excel Center opened its doors to individuals ages 19 to 50 last August. It's the first free charter high school in Texas where adults can earn their high school diploma. No longer are they restricted to earning a GED if they are past the age of 25 years old.
"What a momentous day for these graduates and their families, but more so, for our central Texas community," added Traci Berry, the Goodwill's senior vice president of community engagement and education. "Most of our students came focused on earning their diploma, but they are leaving with plans for continued education, technical certifications, and career goals, which will impact generational change while enhancing the central Texas workforce."
In 2013, using the Goodwill Industries of Central Indiana (Indianapolis)'s adult high school as a model, Goodwill Industries of Central Texas (Austin) began the process of opening the Excel Center. With much support from the Indianapolis Goodwill partners, the Austin Goodwill worked through the legislative process while getting the facility and school infrastructure up and running. Now, GCT is taking the school a step further, expanding the space for the school to accommodate up to 500 students, and increasing the age of admittance to 17. The expanded school will open in time for the fall session, beginning August 17.
After the graduation, Geneva, another graduate, added, "It's more than just a high school diploma – it's an opportunity to be self-sufficient – helping us all find better jobs, being able to continue our education, strengthening our families, increasing our worth. A lot of us are older, now we don't have to settle. We can move forward and achieve our life's goals!"