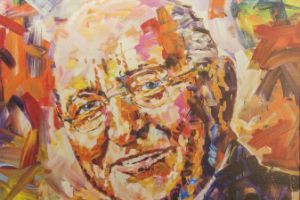 Goodwill of the Heartland (Iowa City) is presenting Cornell College with a portrait of Goodwill Industries® founder and Cornell College alumnus Edgar J. Helms on August 29, as part of the agency's 50th anniversary celebration.
Helms, who graduated from Cornell College in 1889 with a degree in philosophy, went on to found what would become Goodwill Industries International in Boston in 1902. Helms, a Methodist minister, and his congregation collected used goods and clothing and gave people jobs repairing the items, which were then distributed to those in need.
"We are so proud of Edgar Helms and of what he accomplished," said Cornell College President Jonathan Brand. "He exemplifies Cornell's traditions of service and leadership, which continue to this day. In fact, Mr. Helms is the emblematic Cornellian in that he was able to achieve multiple important social goals all at once, creating a world-class organization that reduces waste—by 'repurposing' everything—and also provides gainful employment for those who have limited employment opportunities."
Pat Airy, president and CEO of Goodwill of the Heartland, will present the portrait to Brand at the beginning of the college's annual service day for new students. Nonprofit and service organizations will be on campus that day to connect with students and offer a chance to sign up for community service.  During the 2014-15 academic year, Cornell College students performed more than 8,800 hours of service, according to the college's Office of Career and Civic Engagement. Cornell was also named to the 2014 President's Higher Education Community Service Honor Roll.
Helms' portrait, which was painted by artist Steve Penley, will hang in the Thomas Commons, the college's student center, which houses the Office of Career and Civic Engagement.
Katie Wilson, assistant director of Civic Engagement, said the office was happy to have a reminder of Helms and the organization he founded.
"I hope the portrait will help to inspire students with his example," she said.