Goodwill Industries of Kansas, Inc. is a long-standing Kansas-based employer with 21 locations spread across the state, serving Kansans with retail stores, adult education program, workforce development, and Goodwill's Industrial Services.
Prior to the pandemic, the Goodwill's Industrial Services provided employment for more than 120 employees who manufactured insulation for the aircraft industry, fabricated lubrication assemblies for the agriculture industry, and manufactured life-safety vests for state and private industries.
Based on the impact of COVID-19 to the community as a whole, Goodwill Industries of Kansas added the manufacturing of face coverings to its production capabilities. The Goodwill considered the continuation of services to manufacture life-safety vests for KDOT, KDHE, and others, as well as added the manufacturing of masks for first responders, government agencies and healthcare facilities to be an important part of the communities it serves.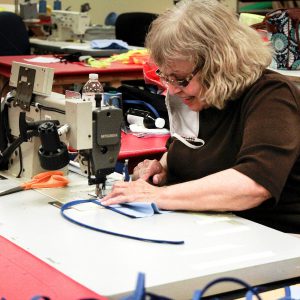 The concept was endorsed when Goodwill Industries of Kansas was deemed to be an essential service during the state's mandated stay-at-home order. The Goodwill requested funding to reimburse costs associated with the modification of existing equipment and to purchase additional machines to increase production to meet mask manufacturing demands without further hampering the ability to meet current needs for life-safety vests.

In addition, the Goodwill asked for and received acceptance from its current customer base to temporarily postpone some manufacturing of life-safety vests while modifications were made to machines to begin manufacturing the masks. Masks were first manufactured for Goodwill employees, and then they were made available to essential workers.
Approximately 45,000 masks were manufactured to meet the critical need in 2020. The Goodwill has since shifted back to its usual Industrial Services, but masks are available as a single purchase item on the Goodwill's Edgar James Apparel website.